So far, aside from the disappointing "44 Inch Chest," our schedule at the LFF has been fairly light on British films. It's been an unusually strong past few years for the British film industry, with the likes of "Hot Fuzz," "This is England" and "Son of Rambow" all proving both critical and commercial hits, and smaller films like Joanna Hogg's "Unrelated" and Rupert Wyatt's "The Escapist" demonstrating some remarkably exciting new directors. We caught up with a couple of debut films from young British directors - the thriller "Kicks," which picked up great reviews at the Edinburgh Film Festival back in June, and "The Scouting Book For Boys," from acclaimed short film director Tom Harper.

"Kicks," like fellow festival entry "Don't Worry About Me," which we'll be reviewing next week, was shot in Liverpool during its year as the European Capital of Culture, by former documentarian and music video director Lindy Heymann. Two teenage girls, shy Nicole (Kerrie Hayes) and brassy Jasmine (Nichola Burley, from "Donkey Punch") meet while waiting for their favorite football player Lee Cassidy (Jamie Doyle) to leave the Liverpool ground. Jasmine wants to be a WAG (the term for fashion-obsessed partners of footballers, best epitomised by Victoria Beckham), but Nicole thinks that she's really, genuinely head-over-heels in love with the player. They bond quickly, but when it's announced that Cassidy is being transferred to a big Spanish team, they take some fairly drastic measures...


For most of its running time, "Kicks" is rather gripping. The digital photography is frequently stunning: between this and his outstanding work on Tom Ford's "A Single Man," DP Eduard Grau is clearly a rising star. It has a great feel for the city around it, and the relationship between Nicole and Jasmine is fascinating, seemingly somewhat inspired by Pawel Pawlikowski's brilliant "My Summer of Love." Both girls are missing father figures in their lives, which their love for Cassidy seems to replace, and it's genuinely affecting in places.

Once they come into contact with the football star, unfortunately, the film crumbles. Partly, it's due to a poorly-handled shift in tone: it becomes a sort of psycho-sexual thriller, but it's poorly set up (with one of the most clangingly inelegant uses of Ibsen's gun-in-the-first-act rule since "Unbreakable"), and never builds up enough steam, almost as if the filmmakers are unable to commit to this late plot development. It's partly due to the performance of Jamie Doyle as Cassidy. Somewhere along the line, the decision seems to have been taken to play him as blandly and uncharismatically as most real-life football players. While this is convincing, it's also entirely undramatic: you understand why this decision has been made, but it's probably the wrong one for the film. [C+]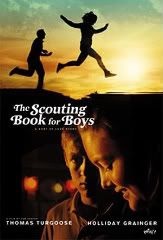 Infinitely more successful is "The Scouting Book for Boys," an original screenplay from playwright Jack Thorne (the TV show "Skins"), following the relationship between teenagers David (Thomas Turgoose) and Emily (Holliday Grainger), who have grown up as best friends in a holiday camp in Norfolk. When Emily discovers that her father has won custody of her, which would take her away from the camp, she runs away, letting only David know where she's hiding out. As panic grows over her whereabouts, David discovers that there's darker reasons for her shutting herself off from the world.

Director Tom Harper has graduated from the shorts world (you can see his ace film "Cubs" here), and it's a spectacularly confident feature debut. The opening scenes, with the pair jumping over trailer rooftops, features some of the most beautiful imagery we've yet seen at the festival, and the whole film has a 'magic hour' feel to it, reminiscent of Terrence Malick and the early work of David Gordon Green: again, the work of DP Robbie Ryan (Andrea Arnold's regular collaborator) is outstanding. Special mention should be given to the music as well - Jack C. Arnold's score works beautifully alongside songs by British nu-folk band Noah and the Whale to sum up a thousand lost, seemingly endless summers.


From the idyllic beginning, as in "Kicks," the mood darkens considerably, but the shift is handled much more confidently, and the cast, without exception, carry it beautifully. Thomas Turgoose, best known for playing the lead in Shane Meadows' "This is England," has matured into a terrific actor, conveying a huge amount of loneliness and longing, even as his character falls deeper into a spiral of lies. He always maintains your sympathy, even as his character's behavior becomes increasingly appalling. Relative newcomer Holliday Grainger is more than a match for him, perfectly capturing the flightiness and naivety of a 15 year old girl, who knows she has her best friend wrapped around her finger. Everyone in the supporting cast, from Steven Mackintosh ("Good")'s ambitious police detective, to Rafe Spall ("Hot Fuzz")'s security guard, is excellent, particularly Susan Lynch ("From Hell"), who, with a towering Amy Winehouse-y hairdo and a colossal drinking problem, takes her place in the monstrous mother hall of fame as Emily's mum.

It's clearly not going to be for everyone. As it thunders towards its conclusion, the tension becomes almost unbearable, culminating in a sickening act of violence, and a heartbreaking ending. If they insist on marketing it with the tag-line "Sort of a Love Story," as the festival posters state, they're going to have a lot of angry people walking out. But, while it's not likely to be a crossover hit like "Slumdog Millionaire" (which comes from the same producer, Christian Colson), it's also pretty much the best British movie of the year. [A]