After dividing audiences, and staff here at The Playlist, with "Public Enemies" (for the record, this writer finds it a tremendously exciting piece of digital experimentation, but a failure as a narrative film), Michael Mann has signed with Columbia Pictures to produce and direct an adaptation of the Spanish language novel "Waiting for Robert Capa," by writer Susana Fortes.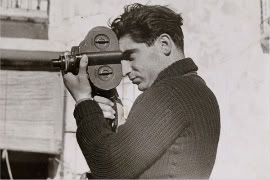 Robert Capa was a legendary Hungarian-born war photographer who took some of the most iconic images of the D-Day landings, and would later romance film star Ingrid Bergman, before dying in a landmine explosion in Vietnam in 1954. In 1935, Capa met fellow photographer Gerda Taro in Paris, beginning a two year romance, which continued when both photographers were posted to cover the Spanish Civil War, where Taro was killed in the Battle of Brunette. Taro was said to be the great love of Capa's life - her picture was the only one found in his wallet on his death - and this romance is the focus point of Fortes' novel.

Jez Butterworth ("Birthday Girl", Doug Liman's upcoming Valerie Plame movie "Fair Game"), will adapt the script, having impressed Mann with his play "Jerusalem" (which we caught in London recently, and is an undeniable masterpiece, maybe the best piece of theater writing of the decade). Variety quotes Mann as wanting to make a "gritty, low-budget film," which sounds like the right move after "Public Enemies" and the bloated "Miami Vice," although setting a film in the Spanish Civil War still sounds fairly expensive...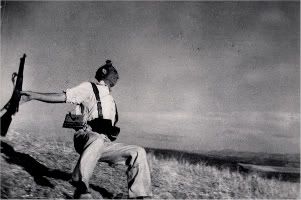 The question also remains as to whether Mann will use his now-trademark digital photography for this project. For a film that at least partly focuses on the art of photography, it would seem ill-fitting, but we're not sure that Mann will ever shoot on film again. Nevertheless, it's a hell of a story, and we're excited to see Mann and Butterworth pair on this. If you're interested in looking more at the subject matter, an exhibition featuring Capa and Taro's work from the Spanish Civil War will open at the Museum of Contemporary Photography in New York early next year.