Richard Ayoade, one of our favorite young music video directors, has finally started rolling on his debut feature, an adaptation of Joe Dunthorne's acclaimed debut novel "Submarine." Filming kicked off in Cardiff yesterday, with a cast including newcomer Craig Roberts in the lead, Noah Taylor ("Almost Famous"), Sally Hawkins ("Happy-Go-Lucky") and the great Paddy Considine.

The novel, published when author Dunthorne was only 25, is a coming-of-age story, following 15-year-old Oliver Tate, as he tries to save his parent's marriage, and lose his virginity to his pyromaniac girlfriend Jordana. Other than Roberts, there's no official news on who's playing who, but, taking an educated guess, we'd say that Taylor and Hawkins will play Tate's parents (Taylor replaces Michael Sheen, who was previously attached to the project), and Considine will probably be Hawkins' Capoeira teacher, who Tate is convinced his mother is having an affair with. Doing a little digging, we've also found information suggesting that Yasmin Paige, star of the "Doctor Who" spin off "The Sarah Jane Adventures," is playing Jordana.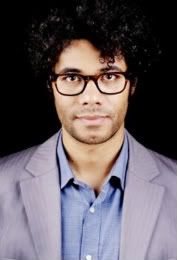 The novel gained comparisons with "Catcher in the Rye" on its initial publication; while we enjoyed it when we read it a few months back, we wouldn't go that far. But Ayoade is a real talent: he started in comedy, co-creating and directing the cult series "Garth Marenghi's Darkplace," before directing music videos for the likes of Arctic Monkeys (for whom Ayoade also helmed their live DVD, "Live at the Apollo"), Yeah Yeahs Yeahs and Vampire Weekend, some examples of which can be seen below. "Submarine" is a real passion project for the director, and with him behind the helm, and a cast as strong as this, this could be the rare adaptation that outshines its source material. Interestingly, the film's being executive produced by Ben Stiller and his Red Hour Films production company: we wouldn't be surprised if this meant that Ayoade was being groomed for a future collaboration with Stiller.

In semi-related news, comedy act The Mighty Boosh, who've frequently worked alongside Ayoade, have confirmed that they're currently writing a film — Boosh member Julian Barratt told the BBC: "We try and do, on TV, quite magical epic journeys and we thought if you're doing a film, we should really do it one rom, basically just kind of a sitcom for 90 minutes... We might do exactly what we didn't do on TV."

Vampire Weekend - "Oxford Comma"

The Last Shadow Puppets - "Standing Next To Me"

Yeah Yeah Yeahs - "Heads Will Roll"