Who wants to be a gambling man and bet that Sam Taylor-Wood's young John Lennon biopic "Nowhere Boy won't come out in the U.S. in 2009?

The film was picked up for a late 2009 release by the Weinstein Company in March, but with the economic troubles they've been having all year and all the release date rearranging and shuffling they've been making — "Youth In Revolt," and "Shanghai" pushed to 2010, the same fates seems to have befallen the long-delayed Ryan Gosling picture, "All Good Things"; "Nine"; and "The Road" switching dates — it seems like a decent bet this one is not going to arrive this year.

So far we haven't seen a trailer, or one-sheets (until now) and it's mid October. The film did bypass the fall film festival circuit only to appear at the less prestigious (sorry, but true) London Film Festival, and there's been no reviews yet (we believe it's embargoed, a friend of ours already saw it before London and didn't have glowing things to say about it).

But perhaps anticipating those imminent reviews, a poster (looks like a U.K. version, although maybe not because those are usually quad style) and a bunch of new images have surfaced. Retro, psychedelia-ist Alison Goldfrapp is writing the score (a bold choice, but should be great).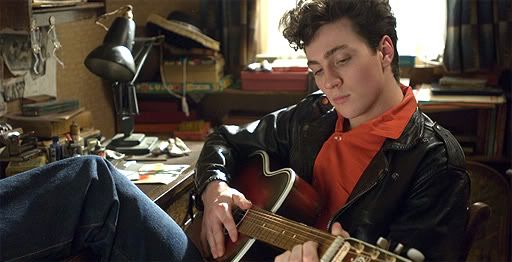 The picture chronicles the early, pre-Beatles life of a young John Lennon growing up as teenager and stars Aaron Johnson (Lennon), Thomas Sangster (Paul McCartney), Kristen Scott Thomas (Lennon's surrogate mother, his Aunt Mimi) David Morrissey, Anne-Marie Duff and was written by Matt Greenhalgh, the screenwriter who penned the Ian Curtis/Joy Division biopic "Control."

"Aaron's going to be a star," one of the film's producers recently said, pumping his star. "He's playing someone we all think we know everything about. He's got to have a confidence and sense of destiny, but he's also a mixed-up teenager whose family is throwing him all over the place. Aaron's got an emotional understanding, for his age, that's just mind-blowing. And he does stillness very well." The screenwriter was also raving about the performance recently too, but we'd like to hear an objective opinion.

So how about those LondonFF reviews. Anyone? Bueller? Perhaps if critical love is high TWC will be able to scrape up enough pennies to release the picture in 2009, but with, "Nine," "The Road," and "A Single Man," looking like their Oscar frontrunners, we'd doubt they could afford one more film between November and the end of the year. But hey, we'd love to be proved wrong and are looking forward to seeing this. Hopefully a LFF review soon.