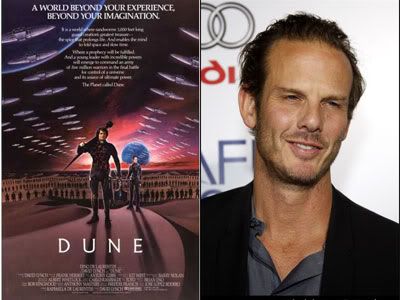 Rivaling Ridley Scott for the number of projects he's attached to — and similarly will probably only produce 1/10th of them — director Peter Berg apparently now has one less project on his very-full plate.

According to Pajiba.com and "confirmed" by a source who said they heard this to be true, Berg has evidently left the adaptation of Frank Herbert's sci-fi saga "Dune" which Berg had hoped to re-imagine as — what else — an action adventure instead of sub-plot heavy, political allegories for the Middle East.

No real reason has been given, but apparently directors du jour Neill Blomkamp, ("District 9") and Neil Marshall ("The Descent") have been tapped as his possible replacement, but these just might be pie-in-the-sky ideas; both filmmakers are busy starting new projects so if this were true, it seem logical that no start date on "Dune" could happen until at least 2011 with a 2012 release (generous approximation, 2013 seems more realistic). Either way don't expect it anytime soon. Btw, expect Blomkamp's name to be a constant "you know who would be awesome for this?" for any project remotely related to sci-fi in the next 12 months, but it sounds like he's doing his own thing (good for him).

Apparently Josh Zetumer, who wrote the second version of the "Bourne 4" script (because the first pass is apparently a mess), penned an epic 175 page script and Paramount are now "scrambling" to find a new director according to Pajiba.

Fans disappointed in this news (possibly one of our own writers), can comfort themselves in the knowledge that Berg is still attached to and developing, an adaptation of the Milton Bradley game, "Battleship," a sequel to the dreadful "comedic" super hero film, "Hancock," a retelling of the "Hercules" story, plua a few others mentioned over at IMBD.

We would assume "Battleship," would be next, but studios like guarantees and therefore sequels, so given that and the amount of noise about "Hancock 2" this year, that project could indeed be next. Apparently "Twilight" star Robert Pattinson, took a meeting with Berg a few months ago about the project, but who knows where that's landed if Berg exiting the project is true, though Pajiba's report is written well enough to suggest this isn't some random site begging for traffic.