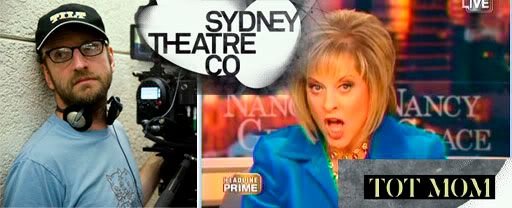 Alright, this is odd.

This year, Steven Soderbergh has worked with a non-actor porn star (Sasha Grey in "The Girlfriend Experience"), a non-actor mixed martial arts champion (Gina Carano for the upcoming, "Knockout") and now he's rounding out his banner year (which also included an excellent Matt Damon performance in "The Informant") by directing a play at Cate Blanchett's Sydney Theater company.

That's not new (we reported it in July) or the bizarre part. What is strange is that part of the play — called, "Tot Mom," and based on the true life events of the death of a Florida toddler in 2008 — centers around the crusading campaign from American legal commentator Nancy Grace to bring this story to the public eye and it's based on her Court TV show, court documents and police reports, according to a just-released synopsis for the play.

Soderbergh wrote the play and is directing it and it mostly features lesser-known Australian TV actors like Wayne Blair, Zoe Carides, Essie Davis, Darren Gilshenan, Glenn Hazeldine, Genevieve Hegney, Damon Herriman, Peter Kowitz, and Rhys Muldoon, Emma Palmer.

Update: We're told Australian actress Essie Davis is the star of this production. She'll be playing the Nancy Grace character (extra credit: she was Blanchett's roommate in college).

In June 2008, toddler Caylee Anthony was reported missing by her grandmother in Florida. What followed was a high profile investigation into her disappearance: an investigation that saw the child's own mother — Casey Anthony — implicated in what was later discovered to be a homicide.

While the strange facts of the case baffled police investigators they also sparked massive media and public interest. Why was Caylee's disappearance not reported to police for over a month? When was the child last seen? What was the strange smell in the boot of Casey Anthony's car? Who and where was the alleged babysitter?



Often controversial legal commentator and host of a popular television show, Nancy Grace, was outraged by the case. Her public crusade for justice for little Caylee transformed the case from a tragic story to a 24-hour news spectacle.



Using excerpts from transcripts of Nancy Grace's show, court documents and police reports, Steven Soderbergh has created Tot Mom — a compelling drama for our sensation-hungry times.
Man, you really never know what to expect from Soderbergh. He's constantly keeping us on our toes and the idea of a 24-hour news spectacle and media sensationalism is a pretty interesting topic that's rarely been examined. Too bad, it's not on film so we can all see it, but who knows, maybe this is just take one for a bigger step. Next up for Soderbergh in the film world is "Knockout" (a working title for now) that is being written by

Lem Dobbs

("

The Limey

") and is set to shoot in January and then he's expected to shoot "

Liberace

," with Damon and

Michael Douglas

next summer.