Details have arrived on the soundtrack to Jason Reitman's humanist, downsizing dramedy, "Up In The Air," that stars George Clooney, Vera Farmiga and a startlingly good Anna Kendrick.

We already mentioned much of the music featured in the film — songs by Elliott Smith, The Black Keys, Black Keys member gone solo Dan Auerbach (which is quite good stuff, btw), Sad Brad Smith, Sharon Jones & The Dap Kings, Crosby, Stills & Nash, etc. — and most of the songs will make the 12 track soundtrack CD which is scheduled for December 1 release via Rhino Records (though there's no Ben Kweller or Black Keys track on the disc; only in the movie).

Kevin Renick's titular "Up In The Air" song is included. It's the song that plays in the film's closing credits, but is now ineligible for Oscar because of that very fact (the annoying Academy loophole, the 1st track played in the credits is eligible, the last one is not). The soundtrack also includes, Elliott Smith's "Angel In The Snow" which is one of the best uses of music within the film and it was an unreleased track until it was released posthumously a few years after his death in 2003 (though all hardcore Smith fans had this one for years, it's one of his best B-sides). Graham Nash's 1971 demo version of "Be Yourself" is also featured and Brooklyn Ambient band Charles Atlas also have two cuts on the disc.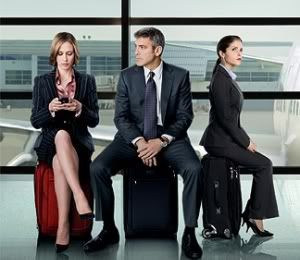 EW has a first listen to the Sad Brad Smith's track "Help Yourself" which was featured heavily in the 2nd version of the trailer (and you can hear it below). About the only "downside" to the soundtrack is the inclusion of Rolfe Kent's original score which is definitely one our least favorite parts of the film (too bouncy cloying).

"Up In The Air," the film, hits theaters in limited release December 4, expands on December 11 and goes wide on December 25. We're a little mixed on it. Some of us love it, others think it's mostly solid, but all of us can agree that it's pretty much a shoo-in for a Best Picture nomination at the Oscars, but then again there are 10 choices this year. Song links where applicable.

"Up In The Air" soundtrack tracklist
1. This Land Is Your Land - Sharon Jones and the Dap-Kings
2. Security Ballet - Rolfe Kent
3. Goin' Home - Dan Auerbach
4. Taken at All - Crosby, Stills & Nash
5. Angel in the Snow - Elliott Smith
6. Help Yourself - Sad Brad Smith
7. Genova - Charles Atlas
8. Lost in Detroit - Rolfe Kent
9. Thank You Lord - Roy Buchanan
10. Be Yourself [1971 Demo] - Graham Nash
11. Snow Before Us - Charles Atlas
12. Up in the Air - Kevin Renick

Elliott Smith's "Angel In The Snow"

Here's a live version of Dan Auerbach's "Goin' Home"