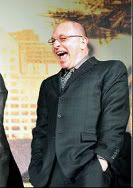 Akiva Goldsman, the black hole of talent responsible for the scripts of "Batman and Robin," "A Beautiful Mind" and "The DaVinci Code," is set to get into the director's chair. In an LA Times profile, it's casually suggested that Goldsman, eager to break into the directing world, is circling an adaptation of his favorite book, the science fiction tome "Winter's Tale." Written by Mark Helprin, the story takes place in a futuristic New York City at the turn of the century, as a peasant rises up to become a miracle worker.

The article makes no mention of anyone else involved, though whatever the project ends up being, its hard to believe he'll have trouble finding financing or getting people interested in a collaboration. Goldsman, who received $4 million to write "Angels and Demons" (holy shit, we know), has recently served as a producer on "Mr. And Mrs. Smith," "I Am Legend" and "Hancock." Yeah, you really do know what you're gonna get when you see Goldsman in the credits, don't you?


"Winter's Tale" is loosely based on Shakespeare's "The Winter's Tale," itself derived from a 16th century bit of fiction known as "Pandosto: The Triumph Of Time," all stories revolving around a protagonist vanishes for a long period of time in the wake of tragedy, and re-emerges, reborn with a clearer heart. Halprin's version sounds significantly superpowered, with an emphasis on what Wikipedia describes as a "Jewish Messiah." The book also features a narrative meant to mirror significant moments in Jewish folklore, which Goldsman will probably render into a hamfisted comic book backstory. Rob Liefeld's Bible re-envisioning comes to mind.

We haven't read "Winter's Tale," which has long received heavy praise, though we are skeptical of Helprin, an intellectual conservative who wrote in the Wall Street Journal that "evangelical democracy writ overwhelmingly large" is what the US government should seek in the Middle East. He also claims he's a pariah in the literature award circles because of his political beliefs, and a pariah to the Republican party for his nonstop criticism of George W. Bush's policies. Shit, this guy can't find friends anywhere!

Goldsman, who's polished his chops directing a couple of episodes of the hit television show "Fringe," is still very active in the producing realm. The four projects he is linked to in the article are all comic-based, with next summer bringing "Jonah Hex" and "The Losers" to the big screen. It mentions the ongoing development regarding "Lobo" as well, with another iteration of "Swamp Thing" on the horizon, following Wes Craven's high-camp attempt in the early-eighties. No mention of Goldsman's planned "Fantastic Four" reboot or the Valerie Plame drama "Fair Game," both of which he's taking producing credits on, but only because the movie world can stand so much bad news in one day.