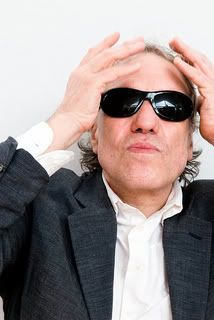 Gonzo indie filmmaker Abel Ferrara has a reputation for pissing people off, not to mention getting pissed off. It originally made him a feared, intimidating, and powerful figure on the indie circuit, but with the recent penny-pinching going on in the independent film market, he's been left without much cachet, his films struggling to receive American distribution ("Mary") or vanishing altogether ("Go Go Tales"). We figured that his next film, an action picture with Wesley Snipes called "Game of Death," was just a cash-in, something to earn extra financing for his future projects, because the guy does not do action pictures.

However, it's a moot point now, as Ferrara has stepped off the project in the middle of production. The action-thriller, which was to co-star action regulars Zoe Bell ("Grindhouse"), Gary Daniels ("The Expendables") and Robert Davi ("Die Hard") was to be Ferrara's re-teaming with "King of New York" supporting actor Snipes, but the Snipes of that era was an exciting acting presence with charisma to spare, and the Snipes of today is a paycheck-seeking martial artist. Despite the association between the two, it's doubtful Snipes shed a tear over Ferrara's departure, though, much like Werner Herzog tricking-out Ferrara's "Bad Lieutenant," we would have been interested to see Ferrara's touch on something a little different than his usual fare. Giorgio Serafini, an Italian TV veteran, will be Ferrara's replacement.

We're not sure what this means for Ferrara's next projects. He's had a wacko "Jekyll And Hyde" update set up for awhile now, with Forest Whitaker and 50 Cent playing the warring personalities, and has also been setting up a "King of New York" prequel. But the combination of failed distribution, volatile personality clashes and, now, project departures probably doesn't look too enticing to producers. In this climate, it's tough for most, but we actually fear for the career extinction of fringe filmmakers like Ferrara.