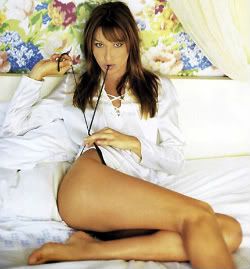 Carla Bruni-Sarkozy, former model, singer, songwriter and current hottest first lady of France (and perhaps of all time), has revealed that Woody Allen offered her a role in his next film, a Paris based romantic drama. Allen first met Bruni way back in June when he met the first couple at the Elysee Palace (you can see official pictures of the meeting - sans Bruni - on Sarkozy's Facebook page). Seemingly impressed with her then, he followed up with another meeting in which he offered a role. In an interview yesterday on Canal Plus television, she confirmed she has accepted the role:

"He offered me a role in his next movie," Bruni-Sarkozy said in the interview. "I don't know for what character, but

I said yes. I'm not an actress at all,

" she said. "

Maybe I will be terrible. But, in my life, I cannot let such a chance go.

"
We doubt the role will be a lead due to the first lady's lack of experience, but given her popularity throughout Europe, we could easily see her in a supporting role. The film is pegged as "romantic drama" and as usual for Allen pics, details on the plot are well guarded.

The film will mark the second of a three picture deal Allen has with Mediapro. The first, the aforementioned comedy romance, "You Will Meet A Tall Dark Stranger," (the aggressive title apparently means Allen feels good about it) is set to hit theaters sometime next year, while Allen will get Bruni in front of cameras sometime - our guess is spring or early summer - in 2010 as well. Rio de Janiero has been rumored as the location for the third project, but we kind of hope Allen manages to get enough financing to shoot in New York City one more time.