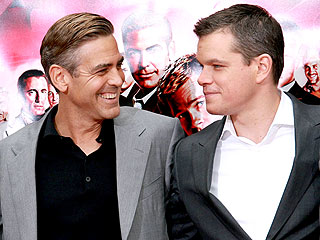 Do we remember George Clooney's next directorial effort, "Hamdan V. Rumsfeld," which would now star Matt Damon?

Once titled, "The Challenge," and scripted by Aaron Sorkin, the story centers on Osama Bin Laden's chauffeur, who was captured in Afghanistan before being shuffled off to Guantanamo Bay. Damon told the Boston press a few months ago, "It's about the so called 'War On Terror', but set in a courtroom."

This was the case that proved the actions being taken at Guantanamo were in fact a violation of the Geneva Convention, thanks primarily to the work of Hamdan's slick lawyer, a role that Clooney was originally eyeing, but then decided Damon was better fit.

We had heard some internal reports that this one was planning on shooting 'Hadman' spring of 2010 at one point. But all one needs to do is look at the slate before both actors. Damon is currently shooting "The Adjustment Bureau" now, then Clint Eastwood's "Hereafter" probably in early 2010, "True Grit" in March and Soderbergh's "Liberace" hopefully in July.

Now that Clooney is essentially about to sign on for Alexander Payne's "The Descendants" where does that leave "Hamdan V. Rumsfeld," according to a friend of ours close to the project, not anytime soon. S0 2011? Clooney's apparently taking next summer off. So if you're a betting man, yes, don't expect shooting to start anytime in 2010 unless some last minute fast-tracking is made (doubtful).