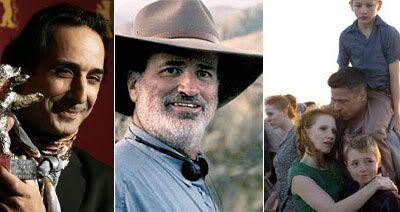 Ok, that's sort of a trick question as it's probably debatable whether there is a "plot" to Terrence Malick's "Tree Of Life" — though there will be many heavenly pretty shots of ladybugs landing in the palms of children's hand, lovingly inspected with curiosity and awe — but French composer Alexandre Desplat, who wrote the score, just "revealed" more plot that anyone part of the cast ever has.

"It's a deep story about love, how you transmit love, through your family; from the parents to the children. And the evolution of mankind... since the creation. Heavy things, but with everyday life things. That's one of the great ideas that Terrence has been working on. We see a family in the '50s in Texas in their everyday lives, but there's more, of course, connections to the big picture."
Uhh, yeah. Nothing we haven't really heard before (sort of anyhow, not that anyone's heard much of anything concrete), but it does sort of explain, the dinosaur-laden documentary, "Voyage of Time" that will precede (or follow, who knows) the family story of "Tree Of Life" and centers on — as we've been told by sources close to the project —the father son relationship between Brad Pitt (the father) and Sean Penn (the son) and the [REDACTED, REDACTED, REDACTED] (yes, someone has told us the "secret" of this film, but we don't what Malick's sniper team to take us out). That would make Jessica Chastain, pictured above with Pitt, the mother of Penn's character; Heath Ledger was originally scheduled to take Pitt's part, but dropped out long before he died). But, suffice to say there's a death that racks the characters emotionally and it's not the one you think either.

How will the evolution of mankind tie into the family drama? Will it be like the end of Kubrick's "2001," i.e., some next level shit that blows our mind? Mmm, we kinda hope so, but kinda doubt it.

Also, Desplat says that Malick (surprise, surprise) shot a monstrous amount of footage. "I guess he must have shot 20 days of dailies or so. The amount of footage is incredible." Jesus, that's a lot of fucking footage and we wonder why his films take so long to edit. An Update: Desplat tells Variety he recorded "at least an hour" of music last year, "because Terrence wanted to have the music to edit to." He adds, "I know there's more to come," which stands to reason since Malick is still editing.

"Every single shot is of pure beauty," Desplat said and this "new [film] will be so beautiful," he said of the footage he's seen and scored (presumably he's seen most of the film). Our source told us, Malick chose to shoot the "present day stuff with the RED ONE camera and all the past on 35mm film," which sort or reveals that Penn's character is only shown in the here and now. We sort of presumed most of it look place earlier in the 20th century, but considering the age difference, we guess that would make perfect sense. The pieces are slowly coming together and it's starting to make a bit more sense now. Debuting at the 2010 Cannes Film Festival? If we're lucky?

Here's the clip below, via MovieCity News.