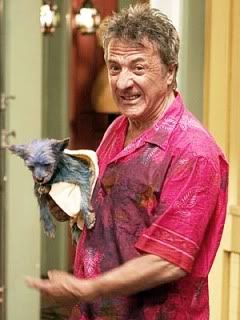 Universal is excited about their coming tentpole "Little Fockers," but fans of the first two films in the "Meet The Parents" series might not get the proper closure needed for their epic tale of spousal/parental conflict. Dustin Hoffman, who's presence was probably integral to "Meet The Fockers" and its success, has not been able to reach an agreement with the studio regarding his participation, and it looks like he may walk. The veteran Oscar winner was apparently slated to make a humorous cameo appearance at the close of the film, but negotiations have fallen apart, and it looks unlikely that he'll return, according to EW.

We are conflicted. On one level, we'd like to think this frees Dustin Hoffman to do more worthwhile things with his time. Perhaps feeding the needy, or starring in more important films, or maybe even a murder spree. Really, anything but this franchise. Then again, we can't help but admonish the writers and producers of this film for such an insult. You've got Dustin Hoffman, a big part of the second film's $516 million worldwide gross, and you've reduced him to a cameo in a film largely about the birth of his character's grandchild. One of the all-time greats, and he's likely been put to the side in order to provide more screentime to the likes of Jessica Alba and, we're guessing, jokes about homophobia, slapstick violence and dog reaction shots. Hey, give the people what they want, right?

Barbara Streisand, who played his wife his the second film, is likely returning in a sizeable role, so one wonders exactly how they'll write Bernie Focker out of the movie. We'd like to take this opportunity to remind people that Hoffman is opting out of a chance to share the screen with Robert De Niro and Harvey Keitel. If we said that in 1979, you would've shat a brick. "Little Fockers" stars De Niro, Ben Stiller, Teri Polo, Blythe Danner, Alba, Keitel, Streisand and Owen Wilson and is set to rape movie screens July 30th 2010. It's also directed by Paul Weitz the brother of I'll quit, just kidding I won't quit, Chris Weitz.