— It's been on the cards for a while, but it's been confirmed that Gerard Butler will play Tullus Aufidius in Ralph Fiennes' directorial debut, an adaptation of William Shakespeare's play "Coriolanus." Fiennes will also take the lead role, and the pair are joined by William Hurt, Eddie Marsan, Vanessa Redgrave and Jessica Chastain. It's one of Shakespeare's more obviously cinematic plays, so we're mostly excited, although "Law Abiding Citizen" seems to have confirmed what we've suspected for some time: that Gerard Butler cannot act. At all.

— The Doors and Randy Jackson, together at last! The "American Idol" star will serve as music supervisor on "Hello, I Love You," a new family comedy from producer Stephen McEveety ("The Passion of the Christ") and "Home Improvement" writer David McFadzean. The plot follows a teenager who wants a new family, and finds herself waking up with a different one every morning.

— The spec script "Once Upon a Time in Hell," a retelling of Alexandre Dumas' "The Count of Monte Cristo" set in the contemporary criminal underworld of London, which was featured on last year's Black List, has finally sold to Phoenix Pictures. Michael Connolly, the manager of writers Lee Shipman and Brian McGreevy, who are also responsible for "Pendragon," a reboot of the Arthurian legend, praises his clients by saying "The guys have dug into their lit backgrounds to come up iwht new stories for old material in order to sell 'original' material without securing the rights to a remake, a book, a graphic novel etc. It really shows ingenuity and resourcefulness in today's market." In other words, they can disguise their rip-offs enough that they're legally in the clear...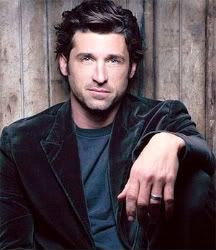 — Patrick Dempsey is teaming with director Paul McGuigan ("Lucky Number Slevin," "Push") for an as-yet untitled heist comedy from Jon Lucas and Scott Moore, writers of "The Hangover." The plot follows a man in love with a bank teller, who finds himself trapped in her workplace when it's robbed twice simultaneously. Like "The Hangover," it's quite a strong concept, and like "The Hangover," if it's any good, it'll be because the director has substantially rewritten it, and then been robbed of credit by ludicrous WGA arbitration rules.

— Director Chuck Russell ("The Mask") will direct a 3-D version of "Arabian Nights" that he's co-written with Barry P Ambrose, for independent company Inferno Entertainment. It sounds like a fairly loose, and frankly generic, take - the story now follows a young soldier who teams up with Sinbad and Aladdin in order to rescue Scheherazade. Filming will kick off in April.