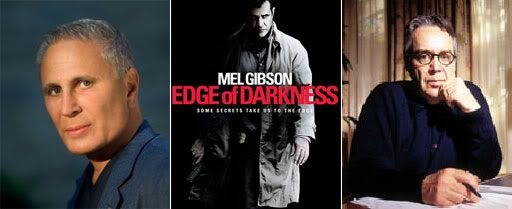 Ever wonder why "Edge Of Darkness" went from being the much-anticipated Martin Campbell follow-up to the excellent Bond film, "Casino Royale," to being a generic-looking thriller now bound for January 2010 dumping-ground season?

Sounds like composer John Corigliano has inadvertently given us the answer and it sounds like classic indecision, the hedging of bets and creativity by committee that ruined the original idea.

Originally, Campbell hired Corigliano to score the revenge picture because he wanted Gibson seen in a "more introspective and intimate way than he is usually portrayed." Sounds great, anything that isn't conventional is always needed in a revenge film.

Cut to months later, his score is rejected and then replaced with one by Howard Shore (the "Lord Of The Rings," many David Cronenberg films), because the studio (or producers) changed their minds on the picture's tone.

"They wanted it to be more of an action film," Corigliano told MovieScoreMag. "So they filmed more violent scenes, and wanted a score to match the macho image they wanted to create for their star. If I had been asked to score a Mel Gibson action film, I would have refused it – not because it isn't a perfectly valid idea, but because it is wrong for me. On the other hand, this happens all the time. Howard Shore – whose music replaced mine -had exactly the same thing happen to his score for King Kong, which he'd composed, recorded, and had replaced by James Newton Howard's music. It just hadn't happened to me before."

Pretty telling. Bit of a shame too because "Casino Royale" even impressed the shit out of skeptics like us, but 'Darkness' looks like it's headed for the bottom of the delete pile.