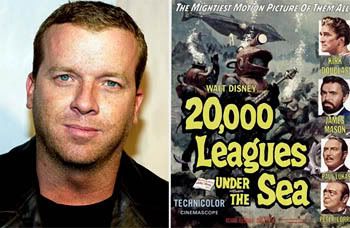 McG's attempt to remake "20,000 Leagues Under The Sea," has been beached by Disney. The film, which was titled, "Captain Nemo: 20,000 Leagues Under the Sea," and was set to shoot in February has been ankled and the "Terminator Salvation" director is no longer part of the project.

What happened? DealMemo doesn't say, but it appears that there were some creative differences between studio and director and starting such a presumably expensive picture in just three months probably wasn't enough time to find a new filmmaker and give them prep time. Disney will probably have to start from scratch.

Apparently McG will move on to "Dead Spy Running," a drama scripted by Academy Award winning screenwriter Stephen Gaghan. Wait, McG directing a film written by Gaghan. Aren't there Academy rules against that type of thing? That's disconcerting that a Gaghan script will allowed to be ruined like that.

The trade also says that McG is still attached to "Terminator 5," but as the property's on the auction block, that one's probably not happening anytime soon. Whoever buys it is also not obligated to use him and it'll be a few years until the franchise can recover from 'Salvation,' but at this point it'll probably have turned into the episodic "Star Trek" of yore and they should just leave it be. Though Hollywood is like the mouse and the electric cheese when it comes to potential dollars.