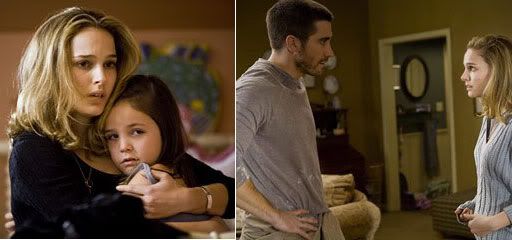 As evinced by a post yesterday, Jim Sheridan's "Brothers" is a movie that intrigues and interest us. Everything we've seen hasn't necessarily blown us away — in fact, kind of the opposite — but because we're big fans of the original 2004 Danish film, "Broder," directed by Susanne Bier, which this one is based on, we're curious to see where it goes.


It's essentially a tale of two siblings, one a black sheep (Jake Gyllenhaal in this version), and one the responsible father (Tobey Maguire) who is shipped off to Afghanistan and then believed dead when his helicopter goes down over enemy lines. Trying to do the right thing, the Gyllenhaal character attempts to comfort the wife (Natalie Portman), kids and family of his "deceased" brother, but when the soldier returns home, emotionally scarred and traumatized, the fabric of this new found family is torn apart and tested to its limits.

Or there's also the official synopsis: In a small, snowy Pennsylvania town, a young man (Jake Gyllenhaal) comforts his older brother's wife (Natalie Portman) and their children after her husband (Tobey Maguire) goes missing in Afghanistan.

It's essentially a family drama and while the original is brutal, it's also powerfully memorable.

Scheduled for a December 4 release date, "Brothers" is not much of an Oscar contender so far (if ever), which makes us question its quality, especially considering how good the original is. Anyhow, today 3 new photos have arrived via EW and below is the 2nd trailer from Yahoo. But this trailer — with it's brutally TV-voiced narration — is definitely trying to sell this to a larger audience and it's pretty cloying from minute one.

OK, the trailer itself kind of sucks, but it does appear to follow the narrative exactly the same (full disclosure, we read the new script, but bailed near the end, because we wanted some surprises). This one's been done for a long-ass time too which is never a good sign and without much buzz, all signs point to a disappointment, but with Sheridan involved and the source material being great, ideally this is something we'd love to say was great in the end. Irish rockers U2 contributed two songs to the film and they probably would have been exclusive to the film had it come out a year ago before U2's latest record.