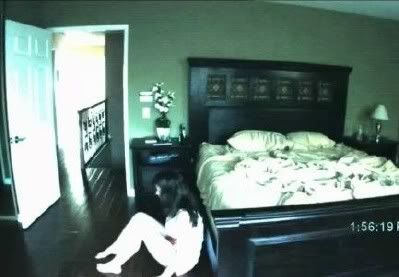 -After what was said to be a bidding war, Paramount has acquired Oren Peli's follow-up to "Paranormal Activity," the alien found footage feature "Area 51." The $5 million film reportedly finds teenagers sneaking into the famous military location and encountering spooky happenings. The Paramount deal also involves a clause for a sequel to "Paranormal Activity," which may hit theaters with "Area 51" in 2010.

-J.J. Abrams is producing a feature film adaptation of the Genndy Tartakovsky animated series "Samurai Jack." Tartakovsky has been working on the film for awhile now, but Abrams' Bad Robot production company is stepping up to ensure a theatrical release for the $20 million project. "Samurai Jack" aired on the Cartoon Network and was a visually ambitious takeoff on samurai films, though it's been canceled for awhile now, and we really don't know anyone clamoring for this movie. Tartakovsky, who recently storyboarded much of the action for "Iron Man 2," was also a major creative force behind other cult animated series such as "The Powerpuff Girls" and "Dexter's Labratory."

-Sam Worthington has revealed he's signed on to do a trilogy of "Avatar" movies (which is really old news if you read enough Cameron interviews). We're sure James Cameron is getting right on that.

-Fede Alvarez, who made waves on the internet for his skimpy five minute robot-attack short, has just signed a development deal with Sam Raimi's Ghost House Pictures to shepherd an alien-attack film. He's received a million dollars for a pitch which is going out to writers before Alvarez gets veto power. All this for a Uruguayan with a special effects reel and a copy of the "28 Days Later" soundtrack.

-Guy Pearce has joined Roger Donaldson's "The Hungry Rabbit Jumps," though sources are hush hush as to who he might be playing. The action thriller finds Nicolas Cage as a husband who joins a vigilante group when his wife (January Jones) is assaulted.

-In an interview with Coming Soon, "Predators" director Nimrod Antal reveals that they're shooting for an R-rating and it will be primarily practical effects. He also refuses to confirm or deny an Arnold Schwarzenegger cameo.


-Dirk Benedict and Dwight Schultz have confirmed their cameos in the modern updating of their show "The A-Team." Reportedly, Mr. T has turned the producers down many times over the years, stating, "You talk like a fool. Either I'm BA Baracus or nobody," and then recently, "It's insulting me to ask me to be in it [as someone else]. It's just like my ex-girlfriend saying 'Why don't you come out to dinner with my new boyfriend?' You see what I mean? I am not going to do that." As it should be, Mr. T. As it should be.

-TV actors in every way Jeremy Piven and Kate Walsh have joined Thomas Dekker, Lynn Collins, Mira Sorvino, Elizabeth McGovern and Joseph Morgan in "Waska." Gaby Dellal directs from a script by Catherine Trieschmann based on the book "Angels Crest" by Leslie Schwartz. We shrugged too.

-Send in your best writing samples! Sylvester Stallone is looking for a co-writer for his next "Rambo" adventure, which will take place south of the border.