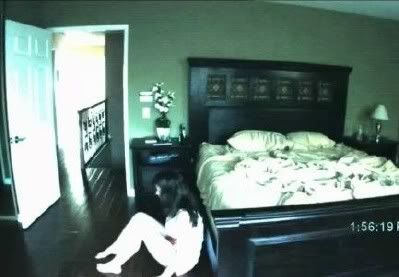 -After a summer's worth of viral based buzz that Paramount's marketing team gradually built into mainstream attention, "Paranormal Activity," in its fifth week of national release has joined the $100 million club. Oren Peli's $15,000 movie that could is now the top grossing, R-rated thriller of all time but don't think that studios are banging down his door just yet. The director is currently filming "Area 51," an alien thriller, and the rights are currently for sale at the American Film Market. However, while it was mentioned earlier in the week that studios were in small bidding war for the picture, it appears things have deteriorated to such an extent that IM Global's Stuart Ford, who is repping the picture, says there is no interest in the picture from any of the studios, while on the other hand saying that is deal is in the works. Studio suits may feel that Peli's success was a one time thing, but may be forgetting that film worked because it seemed to genuinely scary (though, we haven't seen it yet so don't take our word for it). Either that, or Peli and his team, perhaps feeling a little more entitled this time around, may be asking for far too much for his next picture. With the budget of "Area 51" at $5 million, its sixteen times the $300,000 Paramount paid for the rights for "Paranormal Activity" the first time around.


-Martin Scorsese and Ricky Gervais are together at last. It was announced yesterday that Scorsese would be this year's recipient for the Cecil B. De Mille Award for his "outstanding contribution to the entertainment field" at this year's Golden Globes. Scorsese is joining rarefied company, as the last director to receive the award prior to Steven Spielberg's 2007 honor, was Alfred Hitchcock way back in 1975. Gervais will get his moment to rib the famed director on live television when the show is broadcast on Sunday, January 17th. We find it kind of amusing and sadly ironic that the Golden Globes people are still taking the time broadcast their honorary awards, while the Academy people are shutting away this year's recipients who include Lauren Bacall, Roger Corman, Gordon Willis and John Calley, giving them a glorified dinner party on November 14th.

-Director Tom Hooper is trading in his cleats for the throne. The director of "The Damned United," has lined up a fantastic cast for his next film, "The King's Speech," which started shooting yesterday. Helena Bonham Carter, Jennifer Ehle, Guy Pearce, Derek Jacobi and Michael Gambon are all on board in the film that tells the story of King George VI (Colin Firth) who overcomes his stammer with the help of speech therapist Lionel Logue (Geoffrey Rush). Though we're wary of this becoming unintentionally hilariously sappy, we trust that with the talents he has on hand, Hooper will point the production in the right direction. The Weinstein Company, who are hoping to get Firth his first Academy Award for "A Single Man," will be distributing the film which is slated for release next year.


-Jon Turteltaub, who hasn't made a single film worth discussing (okay, "Cool Runnings" is a guilty pleasure), is ready to tackle his first serious film (sorry, "Instinct" doesn't count). The "National Treasure" director has come aboard a currently untitled project that will profile the founding of the highly influential environmental organization, Greenpeace. Set in the 1970s and 80s the film will follow founders Bob Hunter and Rex Weyler, and their merry band of pacifists, ecologists, musicians, teachers, sailors, and scientists as they tried to stop whaling, nuclear testing and seal hunts all while managing to form a powerful activist voice. The film will be adapted from two books, Weyler's "Greenpeace: How a Group of Ecologists, Journalists, and Visionaries Changed the World" and Hunter's "Warriors of the Rainbow: A Chronicle of the Greenpeace Movement," and while there is no script in place, producers are already in talks with Aaron Sorkin to wield his mighty pen. So just to summarize, Jon Turteltaub is set to direct a film about environmental activists that will possibly be written by Aaron Sorkin. And, no, today is not April 1st.

- Remember "Cracks" the suspenseful boarding-school girl drama (look people, not a "thriller") that Ridley Scott's daughter Jordan Scott directed? It stars Eva Green and Juno Temple, it played at TIFF earlier this year (we saw it) and now it's been picked up by IFC Films for a 2010 release. Good on 'em. Trailer and photos here if you missed.

-The teaser for the latest Happy Madison abomination has arrive and is just as craptacular as you might expect. "Grown Ups" stars Adam Sandler, Chris Rock, Kevin James, Rob Schneider and David Spade as five high school friends who reunite decades later for a 4th of July party. Somehow, Salma Hayek and Maria Bello were also roped into this thing. The centerpiece of the minute and a half trailer is a fat man falling down a hill. If that tickles your funny bone, watch the below: