With "The Lovely Bones" in the can, and reviews beginning to come in (generously speaking, critics seem to be mixed) Peter Jackson is wasting no time in attending to the two high profile projects on his plate.

The terribly titled "The Adventures Of Tintin: The Secret Of The Unicorn," the Steven Spielberg directed half of the pair of Tintin films coming down the pike, is the project that will be demanding the most attention from the director. Jackson has confirmed that shooting has wrapped, and the film has already been assembled into a very rough cut, but that two years worth of post-production and animation are going to be required to have it ready for cinemas. Well, with a December 23, 2011 release date penciled in by Paramount, it looks like everything is moving like clockwork, and we're guessing we'll get our first taste of the film sometime around the end of 2010 or the beginning of 2011 at the earliest.

The other two-parter project, Guillermo Del Toro's "The Hobbit," seems to be moving ahead as well despite MGM's current financial woes with Jackson reporting that the script for the first film is finished, and that he along with Del Toro, Fran Walsh and Philippa Boyens are currently at work on the second part. We suppose we'll know in a little while if Viggo Mortensen (and others from the LOTR triology) will make appearances in the second film, as Jackson and co. have said they want to find a way to connect the films into one flowing storyline. But just don't ask Mortensen about it, he really has no idea, and no one will until the script is done.

In another interesting tidbit, Jackson is cautiously considering the option of shooting the film in 3D, and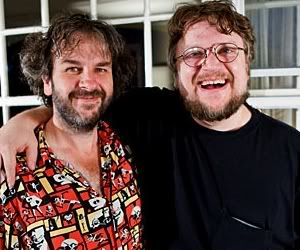 though he sees it as added "experience" in watching the film, he does worry about theaters not projecting the film properly, though he thinks "that could just be about getting brighter bulbs in the projectors." Given the poor state of what passes for cinema projection these days - improperly framed films, inadequate sound, and yes, dimly lit projectors - we don't think cinema owners are going to be crazy about buying new bulbs on a director's request. That, and Guillermo Del Toro wants to shoot in 35mm to keep the same general feel as the LOTR trilogy and we have a feeling his preference will ultimately prevail.

We would guess that once the script is done for the second part of "The Hobbit," and shooting begins in 2010 (last we heard it was supposed to be March), Jackson will probably get cracking on his yet to be titled Tintin film, scheduled to hit Christmas 2012. We're kinda impressed and envious that Jackson has the next two or three years of his life mapped out, especially when we can barely figure out what we're going to be doing tomorrow.