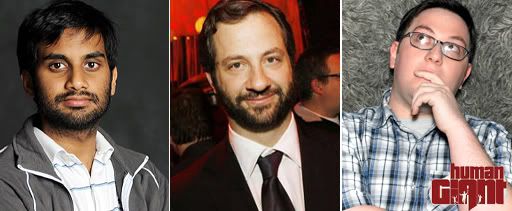 Considering how much director Judd Apatow loved the character Raaaaaaaandy, played by comedian, Aziz Ansari in "Funny People," surely this news is not surprising to anyone.

Apatow through his deal at Universal has picked up three comedy pitches from Ansari and his former "Human Giant" writer buddy Jason Woliner. Aziz is a fairly well-known comic, but he and Woliner (plus Rob Huebel, Paul Scheer), really made their mark on mainstream comedy with their short-lived MTV comedy sketch show.

So is one of these three new projects the much-discussed "Raaaaaaaandy" spin-0ff movie? Unfortunately yes. As much as we (eventually) liked the character, we're all for new projects and this is exactly what Woliner and Ansari are thankfully going for.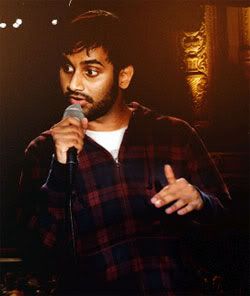 At least one of the projects will be written by both of them, but here's what they've pitched and have been picked up. Woliner is attached to direct all three.

1. "Let's Do This" - a tentatively titled road-trip movie about two men who work for a motivational speaking company. Mmm, sort of reminds us of a riff on "Role Models" which wasn't that funny. Hopefully the pitch was stronger than that.

2. Untitled Space Comedy - A disgraced cosmonaut (Ansari) is forced to return to outer space to clear his name. High concept Apatow? Though it does sound like a ridiculous project that was part of George Simmons' (Adam Sandler) body of work in "Funny People," at least this is different.

3. The aforementioned "Raaaaaaaandy" spin-off movie. To refresh your memory, Raaaaaaaandy is the obnoxious Dane Cook-like comedian that Ansari plays in "Funny People" who is terrible, but of course the audience loves. He plays a rival to Seth Rogen's character and at one point becomes Adam Sandler's character's assistant. How they think they can make that fun little joke into an entire movie... This is what happens when a comedy team get too much money frankly.

Then again, Ansari suggests Apatow wasn't too picky. "We didn't expect all three to work," Ansari told Variety. "We had a breakfast meeting with Judd and pitched them. We were like, 'Which one do you like?' He wanted all three."

Gee, great, can we get a breakfast meeting and spike his mimosa too? That sounds far too easy. Ansari will next be seen in Apatow's "Get Him To The Greek," starring Jonah Hill and Russell Brand as directed by "Forgetting Sarah Marshall" filmmaker Nick Stoller. Makes perfect sense. 'Greek' is a spin-off sequel to 'Marshall.'