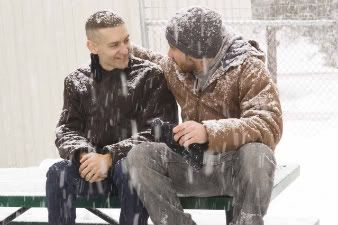 Ever since the United States' involvement in Iraq and Afghanistan, Hollywood has released a steady trickle of documentaries and feature films that all take a strong moral position on the war, that has largely not made for very good cinema. The problem with the "Iraq war film" (which is pretty much a genre unto its own now) is that it more often than not trades politics for plot, resulting in stridently voiced material that doesn't necessarily make for compelling viewing.

On the face of it "Brothers", Jim Sheridan's adaptation of Susanne Bier's 2004 film, seems to be aiming for the same territory. The sexy trailers from the film features a young, hip cast, promises some salacious infidelity and gives us a man clearly broken from the war waving a gun around. But the ads for the film are misleading, looking for an easy hook to get asses in the seats, as Sheridan's film is actually a complex look into what defines a true man of character, and the expectations that are placed on the shoulders of the young men that are sent into war.

The film opens with Capt. Sam Cahill (Tobey Maguire) picking up his gadabout brother, Tommy (Jake Gyllenhaal) from a prison stint. Regarded as the black sheep of the family, Tommy's almost willing lack of direction seems practically callous as his brother Sam gets ready to leave his wife Grace (Natalie Portman) and their two children behind to do another lengthy tour of duty in Afghanistan. Of course, being raised in a military family led by Vietnam veteran Hank (Sam Shepard), doesn't make things any easier for Tommy who is blunty regarded as a failure in the eyes of his father.

Even after Sam leaves for Afghanistan, Tommy continues to stay out late, getting blind drunk and "borrowing"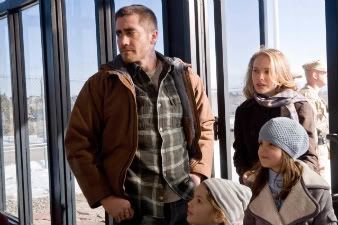 Sam's pickup in the dead of night. However, when Sam's helicopter crashes during an ambush in Afghanistan, he is declared dead and a slow change begins to happen in Tommy. It starts with small kindnesses in helping out Grace with the kids, and turns into a full fledged father figure/companion relationship. Tommy takes the kids to school and plays with them while Grace, shattered by the loss of her husband and high school sweetheart, begins to pull herself out of her bedroom and enjoy life again. With the help of Tommy, Grace gets a return to some semblance of family life and even begins to laugh and smile.

But one day a phone call arrives. Sam isn't dead.

Having survived the crash with a fellow member of his platoon, Sam was taken hostage by the Taliban where under torture, they tried to urge him and Private Joe Willis (Patrick Flueger) to speak out against the war in Afghanistan on video. Sam is forced to commit an unspeakable act to stay alive (that we're not gonna spoil here), and when he's eventually rescued he's shipped back home to recover.

Upon his arrival home, Sam doesn't integrate easily back into home life. With guilt weighing on his mind and the horror of what he's seen in the mountains of Afghanistan haunting him, Sam slowly begins to unravel. Small things begin to irritate him. Innocuous comments needle him to no end. He begins to suspect his wife no longer loves him and is cheating on him with his brother. In short, the ethical barometer that hew once thought was infallible was forever shattered in a makeshift cell in the no man's land of the Afghan mountains.

The mental wounds begin to eat away at Sam. But, he can't tell his wife what he endured while on duty because he fears she would never understand, while the stigma of Marine personnel requiring counseling (his tough-as-nails father comments that nowadays people stub their toes and need therapy) prevents him from truly opening up and receiving the help he needs. He wants to go back to Afghanistan as soon as possible as it's now the only place where the terrible knowledge he is now privy to makes any sense. Without the clearance to go back into activity, Sam returns home where rage, fear and misunderstanding continue to coil and percolate inside of him until he has no choice to unleash it in all its fury.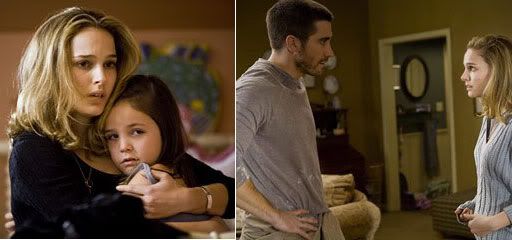 If it all sounds forcibly dramatic, it's not. Benioff's script is brilliantly methodical, and it's the surprisingly strong performances from the cast that give the film a truly resonant tone. Tobey Maguire has the flashiest performance, and no doubt it's one that will be recognized come awards time as his lean frame, shaved head and Travis Bickle-channelling performance utterly smashes his image as the squeaky voiced Peter Parker. However, Jake Gyllenhaal arguably has the toughest role of the bunch having to believably shift from a good-for-nothing ex-con to a reliable family man. But not only does Gyllenhaal do it, he knocks it out of the park. In the early stages of the film, his charming asshole routine is largely lived through his dancing eyes and a perma-smirk etched onto his stubbled face. But when Sam is declared dead, the eyes and smirk are still there but become softer and his attitude, though still somewhat immature, is slowly shaded by the weight of responsibility. It's a great performance.

However, one performance that is probably (sadly) going to be ignored, and that bowled us over is the ten-year old Bailee Madison's turn as the eldest daughter, Isabelle. In the second half of the film, she is given scenes with the kind of depth that would test even the most seasoned of actresses and she absolutely kills it with jaw dropping confidence. The frightening metamorphosis she sees in her father is expressed with trembling eyes, body language and a dinner sequence that is central to the entire picture. It's remarkably assured and crafted work from such a young actress, and is one that we hope is going to be a career changer for her.

But for all the good "Brothers" has going for it, its own worst enemy is director Jim Sheridan himself. Most
notably, Sheridan's tendency to side with schmaltzy sentiment throws the tone of the picture (and unfortunately, the ending) off-balance more than once. One particularly excrutiating scene has Tommy and Grace bonding over a U2 song while they're smoking a joint. And speaking of music, someone needs to teach Sheridan how to use his pop song cues far more effectively. The first half of the film has some terribly amateur hour music cues that are as bizarre for their song choices as for their scene placement. Thankfully, these get out of the way fairly early on, but whenever they came up, it took us right out of the picture.

But these complaints, while not insubstantial, are muted by the crack performances from Sheridan's incredible ensemble and the thematic richness of the material. "Brothers" is the first major "Iraq war film" that is not particularly concerned with whether the politics to go in were justified, nor does it care about with how a nation conducts itself in a foreign land. Instead it's a harrowing reminder that the trials endured by a soldier on a foreign soil aren't left behind when he comes home; that its repercussions will be felt for generations to come. [A-]