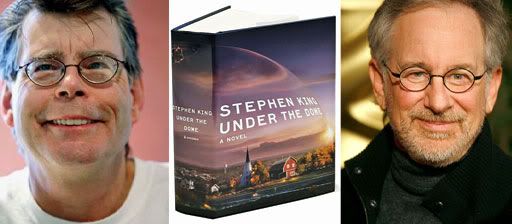 Stephen King is currently making the promotional rounds for his new, phonebook-sized novel "Under the Dome" (we just started it and it's fucking fantastic), and while on tour for the book he had mentioned that it was being developed as an HBO miniseries.

Well, today comes word that none other than Steven Spielberg will be executive producing the "limited series" which Variety says is "likely for cable," which we hope refers to HBO or Showtime and not Sci-fi (excuse us, Syfy) or TNT.

Spielberg has been itching to adapt King for the longest time. As Variety notes, Spielberg has long wanted to do a film (or, a few years ago, television miniseries) version of King's 1984 book with Peter Straub, "The Talisman." The pair seem like a perfect fit, in terms of their singular love of telling stories where extraordinary things happen to very ordinary people. (This was particularly true of both of them during their respective 1980s heydays.)

"Under the Dome" concerns a small, fictional Maine town that one day finds itself trapped under a see-through dome, which comes down "like an invisible guillotine" causing all sorts of trouble, not to mention cutting off the good (and not-so-good) townsfolk from electricity, food, etc. (No, it's nothing like "The Simpsons Movie." King's book is actually occasionally funny. Zing!)

There have been some other interesting news tidbits that have come out of King's promotional/reading tour for "Under the Dome."

• While at a signing in Maryland, King also let slip that he has written a screenplay for the adaptation of his 2006 apocalyptic horror novel "

Cell

" (it's quite good). This is interesting news, considering that the film, which is set up at the

Weinsteins

' genre shingle

Dimension Films

and originally set to be directed by

Eli Roth

right after "

Hostel: Part II

," already had two high profile writers attached - "

Ed Wood

's"

Scott Alexander and Larry

Karaszewski

. The pair previously adapted King for the underrated

John

Cusack

ghost story "

1408

." King says that he changed the ending of the novel for the screenplay, since everybody hated it.



•

Work progresses on his Broadway-bound musical, "

The Ghost Brothers of

Darkland

County

," which he co-wrote with

John

Mellencamp

. His update (courtesy of the Toronto Star) "It's there ... it's in the editing studio right now. We've got a lot of people from the music world who agreed to do parts —

Elvis Costello, Sheryl Crow, Roseanne Cash

... it should be like an old-time radio show and then it's scheduled to go on stage in Atlanta next fall." Kris

Kristofferson

is also scheduled to be a part of "Ghost Brothers ." The album is going to be produced by T. Bone Burnett, who we'll be talking to in the next couple of weeks in anticipation of "Crazy Heart," so we'll try to get more info about this.

• Also, the "

Carrie

" musical (one of the more infamous Broadway flops), based in equal parts on the Stephen King novel and Brian De

Palma

's split-screen-y adaptation, is coming back to Broadway .

Be afraid. Be very afraid. Some exciting things happening in the Stephen King adaptation world, or at the very least enough to offset

J.J.

not doing "

The Dark Tower

" anymore.