Finally -- though one version was out earlier this year, but then taken down rather quickly -- a trailer for Tim Blake Nelson's very odd, but very brilliant comedic thriller, "Leaves Of Grass," starring Ed Norton in the role of identical twins, has been released. We also say, "finally," because we saw the film earlier this year at the Toronto Int. Film Festival, but never had a chance to write a full review (only this little mini-review) and have been itching for an excuse to get our thoughts out there. Both twins (yes, as pictured, Norton plays both) are geniuses of one sort or another: Bill Kincaid is a very celebrated Ivy League philosophy professor on the verge of being hired for a tenure at Harvard, the other brother, Brady Kincaid, is a hydroponics weed-growing genius in rural Oklahoma. Estranged from his family and trying to leave all traces of his Midwestern upbringing behind (including completely burying his accent and essentially severing all ties), the very organized, very straight-laced Bill has not spoken to his brother or his mother (Susan Sarandon) in some 10-years or so, but he's brought back into the family fold when Brady becomes embroiled in some drug-related crime activity that he needs dire assistance with.

Superficially, "Leaves Of Grass," looks like just a fun, simple stoner comedy, however, it is anything but and far more ambitious and complex. Incredibly well written, the picture is sort of four pictures rolled into one with elements of comedy, crime drama, and much-more violent than you'd expect thriller. It touches upon weighty themes of family identity, anti-semitism and existential philosophical issues as well. It's also kind of a Greek tragedy, and pretty remarkable really. The picture also co-stars Richard Dreyfuss, Tim Blake Nelson himself, Melanie Lynskey (having a banner year, she was excellent) and Keri Russell as a love interest.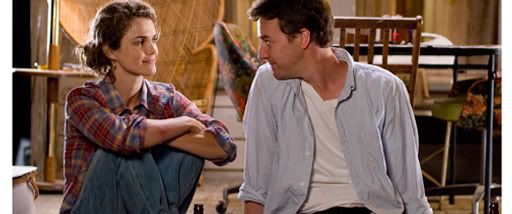 In several interviews around the time of TIFF, Norton said Blake Nelson approached him about the role, but that he turned it down flat before even reading it, telling his "The Incredible Hulk" friend and c0-star that he was going to focus on his own projects. But Blake Nelson apparently convinced the actor to at least read it and bragged that he'd be signing up before he knew it. Sure enough, Norton said he cursed Blake's arrogance because before even finishing the screenplay he knew he would be taking the role (and signed on as a producer to help the film find financing and get made). Here's the official synopsis.

'Leaves of Grass' is an upcoming comedic thriller film written and directed by Tim Blake Nelson and starring Edward Norton, Richard

Dreyfuss

, Susan

Sarandon

, Melanie

Lynskey

and Keri Russell. The film is scheduled to be released on December 25, 2009. It was featured in the 2009 Toronto International Film Festival. An Ivy League philosophy professor (Norton) is lured back into his home town by his twin brother (also Norton) for a doomed scheme against a local drug lord (

Dreyfuss

) that unravels his life.
Not that many people seemed to catch the film at TIFF, but it's a complicated, involved affair and from what we hear has had a mixed reception. We were so surprised, practically shocked, to see how complex it was that we were literally bowled over. It's not perfect, but, whether you ultimately like or dislike "Leaves Of Grass" it will be hard to deny that it is a fiercely original work on par with the idiosyncrasies and layers of the

Coen

Brothers

and not like anything you've seen out there in a while. We were kind of amazed by it. And yes, at the very least, Norton is pretty incredible in it. This strange, plot-twisting and peculiar film is a fascinating piece of work.


According to the synopsis off Myspace (above), "

Leaves Of Grass" hits theaters December 25, 2009

. We're a bit surprised, but happy to hear that. IMDB corroborates the information and while they're not the greatest source, we believe this one is probably true. Now what studio my friend? Doesn't say and this trailer appears to be old as it ends saying, "in post-production," when the picture is clearly finished. Either way, it's nice to hear it's coming out soon. Some might say this will change the Oscar race, but we wouldn't go that far. Norton is remarkable, but the film doesn't seem to be something that would be on the Academy radar (nor do they honor comedic performances much; it's too tonally odd of a film, sadly).