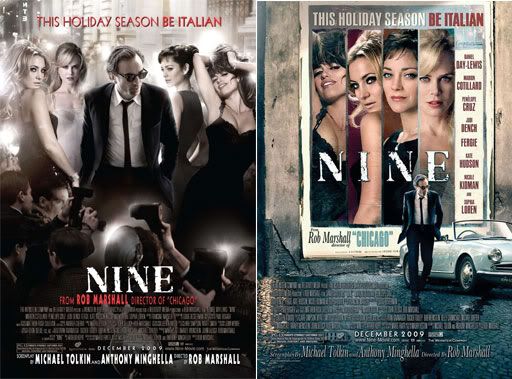 People have accused us of being "Nine" crazy, but considering what's left in the year, what's there to really be excited for? (please don't mention the flying blue furballs)

Though, we're not clueless. This one could be iffy if the songs are cornball (and the Kate Hudson, "Cinema Italiano" track isn't great by any means).

Still we hold out hope because Rob Marshall's "Chicago" was great and who even remembers the songs? We don't, it was just a super entertaining movie and even Rene Zellweger — who we don't normally care for — was excellent in it, which says something.

And the cast of "Nine" — Daniel Day-Lewis, Sophia Loren, Judi Dench, Marion Cotillard, Nicole Kidman, Penelope Cruz, Kate Hudson, and more — is obviously stellar.

Anywho, we'll keep it short. Two new posters have arrived via Yahoo! Movies and Cinematical. Stylish and entertaining with some substance is all we're asking for. Whether it's good enough for Oscar is another story, but you'll notice many dudes just can't get behind big showtune-like numbers because they have some kind of phobia (what kind of phobia we won't say, but you get the drift). Get over it. Yeah, some can be too much, but open your horizons just a smidgen, put down your "Avatar" dolls and give it a shot. Earlier today we revealed the soundtrack details and noted that so far, we've heard four songs. They're not about to go on our ipod, granted, but we're still hoping within the context of the film they'll work grandly.

Update: Ok, there's two more posters now.