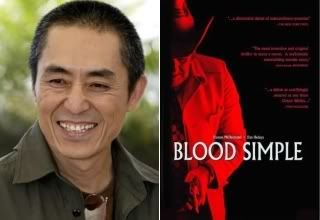 Ok, we know that Chinese filmmaker Zhang Yimou ("Raise the Red Lantern," "Hero," "Curse of the Golden Flower") is remaking the Coen Brothers' neo-noir, "Blood Simple" as a thriller-comedy set in a Chinese noodle shop in a sand dune-specked desert, rather than a bar in an unnamed Texas town where a jealous man schemes to murder his adulterous wife and her lover, but things go awry...

A little odd, but sure, sounds fresh enough and better than a straight-up remake, frankly. Plus the international sensibilities will surely turn up something fresh (Yimou is really not the first person you think of to remake the Coens, nor do comedy).

But is it going to be odder and wackier than any of us expected? The film has a title now, "The First Gun" (though it's been called, "Amazing Tales: Three Guns" in the past) is set for release early December in China (finished a lot faster than you thought, production only started in July), and apparently also features a rap that the director demonstrated on Chinese state television recently (or he at least rapped out the lyrics, on TV, very odd).

The director apparently wrote the rap or the song itself (sorry, we don't have access to Chinese TV on YouTube) and admitted the picture is far from his normal frame of reference. "This is the first time I have done a film like this," he said. "We have added a lot of things and changed the whole feeling [of Blood Simple]... we brought in a lot of comedic elements and changed the relationship and personalities of the characters."

Uhh, watching the trailer below you can tell, he is not kidding. It looks distinctly wacky.

Sony Pictures Classics is putting this one out in North America sometime in 2010 with no exact release date yet.