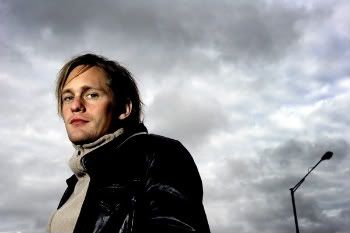 We we first heard that that a remake of "Straw Dogs" was in the works, with James Marsden in the lead we were less than impressed. Frankly, we still think the whole exercise is a waste of time and judging by some recent comments by Alexander Skarsgård, our prediction that the original film's (controversially) sociological bite seems to be true.

In the original film, Dustin Hoffman played the lead role of man who is forced to violently reckon with his own masculinity after his wife is brutally raped and he must defend his home against the perpetrators. Sam Peckinpah's film is bracing and shocking - even by today's standards - not only by its graphic violence, but by the ideas - about female sexuality and masculine ideals - that is so forthrightly put on display.

The remake considerably downgrades the talent involved with Marsden and Rod Lurie, substituting for Hoffman and Peckinpah. Kate Bosworth plays the wife, while Skarsgård plays the wife's ex-boyfriend. In a recent interview with BlackBook, Skarsgård says that Rod Lurie's film is not a direct remake, and seems to play up the love triangle aspect of the original:

So that movie you were talking about in Shreveport was Straw Dogs. Tell me about that.
It's a remake and it's not. Rod Lurie wrote it and directed it, and you can't just copy a Sam Peckinpah movie because there's really no point in doing that. You have to add something and I think Rod did. What attracted me to it is that there's also a love triangle drama there. My character had a history with Kate Bosworth's character. They dated for many years, she leaves and she comes back ten years later with James Marsden's character who's a screenwriter from Hollywood. It's a culture clash.
From what we recall of the original, there was no "love triangle drama." The fact it seems to be played up here, points to a distinct reduction of the original's much more universal (and again, controversial) message about the nature of violence and men, into a personal issue. This is usually the part where we try to say something nice about the film, but we're not going to bother. It's a bad idea, that just seems to be getting worse the more we hear about it.

Skarsgård also talked briefly about "Thor," and reveals that he was "very close to getting it":

If I heard correctly, your dad was just cast in Thor and you were in the running for that title character, what did you think about that prospect?
I was very flattered. I know that they considered me for the part and I got, from what I understand, very close to getting it and that's amazing because I know how many guys they look at for a part like that. I was very humbled by that. It was a great experience and you know you win some you lose some, of course I wanted to do that but…

Did you actually audition for it?
Oh yeah, many, many times.
So there you go. Eric from "True Blood," was very nearly "Thor". His dad, Stellan is in the film as Professor Andrew Ford, while the relatively untested Chris Hemsworth is going to wear the pointy hat.