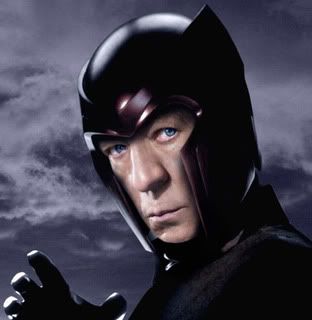 In an interview with The Hollywood Reporter's Heat Vision blog, Bryan Singer spilled more details about his top-secret "X-Men: First Class" project. His long-awaited return to Fox and the X-Men franchise is still shrouded in some layers of secrecy (until it turns out so bad that Fox leaks it months before its release to cover their asses! D'OH!), but he was able to clarify some speculation regarding the project, especially in the wake of fellow X-projects like "Wolverine 2" (bad), "Deadpool" (worse) and "X-Men Origins: Magneto" (yeah, what?).

Singer says of the association with the "Magneto" prequel, "This story would probably utilize some of the Magneto story because it deals with a young Magneto, so it might supersede that because this would explore that relationship between a young energetic professor and a disenfranchised victim of the Holocaust." As if there were people NOT disenfranchised after the Holocaust, but whatever. Since he directed the Auschwitz-set prologue in "X-Men" that told you all you need to know about Magneto's past, and since Singer himself is a WWII movie vet with "Apt Pupil" and "Valkyrie," we're sure he's burnt out on the topic. But he does say the story he wants to tell is about the relationship between Professor Xavier (Patrick Stewart?) and Erik Lensherr (Ian McKellen?). That's not necessarily the angle proposed by David Goyer, who was last attached to a "Magneto" movie as a superhero/villain story set during the Holocaust (!), so we don't want to say the movie is dead, but the thing's been floundering in development hell for a long enough time that we can feel confident Singer's project might make the Magneto origin (even more) redundant.

Singer is currently on pre-production for "Jack The Giant Killer," and when asked about "Avatar" he claims the film made him want to turn "Jack" into a 3D picture. He also claims that "Battlestar Galactica" and "Excalibur" remain in development, meaning that while he starts shooting "Jack The Giant Killer" in the new year, he still has options if "First Class" doesn't develop as he intends it to. Let's see how Singer reacts when Fox demands Wolverine be retconned into the early X-Men adventures.