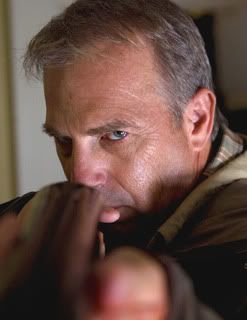 "The New Daughter" is the latest film from Kevin Costner, dipping his toes into supernatural waters for the first time since "Dragonfly." In the film, directed by "[Rec]" writer Luis Berdejo, Costner plays a widower who takes his two kids to stay at a farmhouse, where one child (Ivana Baquero of "Pan's Labyrinth") starts exhibiting spooky tendencies due to the influence of a nearby burial ground. The question hanging over this film from Anchor Bay, who just released "The Slammin' Salmon" to near-empty auditoriums, is, after "Mr. Brooks" and "Swing Vote," is Costner still a viable leading man?

Judging by the 22 theaters that quietly ran the film this weekend, the answer was a resounding, "What, are you fucking serious?" Without any promotion, posters, TV ads or other campaigning, "The New Daughter" was plucked off the shelf from Gold Circle Films and given what we'd guess is a contract-mandated theatrical release. We can't seem to find any numbers for the film, considering Box Office Mojo doesn't even know the movie exists, so we're going to go ahead and assume it didn't really light the box office on fire. "The New Daughter" has been discussed amongst the horror sites for a while now, but otherwise, this situation sounds a lot like the mysterious appearance of "Blood Creek," which earlier this year got a similarly unceremonious release. And like "Blood Creek," you can forget about seeing "Daughter" unless you live in a big city.

Bloody-disgusting.com has a full list of the theaters showing "The New Daughter." Anyone care to bite the bullet and tell us how it is?