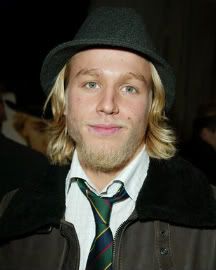 Our feelings on the current glut of vampire movies in development are pretty clear at this point, but in case you feel we've been too ambiguous: we think they should stop. Let's have a couple of years off vampires (and zombies, for that matter), and make movies about, we don't know, mole-people or Yetis or something. Just because teenagers love "Twilight," it doesn't mean that they're going to see "Daybreakers," you know? Nevertheless, Summit are using their piles of gold from the success of "New Moon" to pick up the script "Vlad," a period actioner focusing on Dracula as a young prince. Brad Pitt is producing, through his Plan B Entertainment production company.

Interestingly, the script was a spec from British actor Charlie Hunnam, best known as the backflipping albino from "Cold Mountain" and as the lead on hit cable series "Sons of Anarchy" (or back in the day, the British student on Judd Apatow's "Undeclared") which just ended its second series. Hunnam's script has been developing quietly at Summit for a while, but a director's now been appointed in the shape of Anthony Mandler, a music-video helmer who's worked with Rihanna, The Killers and Jay-Z (his vaguely post-apocalyptic, Warriors-aping video for "Run This Town" can be seen below). Supposedly, Mandler put together a showreel that impressed executives at Summit, who are, inevitably, comparing him to Zack Snyder.

It's unclear how soon this'll head into production, or whether it's seen as a vehicle for either Pitt or Hunnam - we'd say that Pitt seems a little old for the role, but Hunnam probably wrote the script, as most actors who write do, in an attempt to generate material for himself. "Sons of Anarchy" has become something of a breakout hit, so it's not outside the realms of possibility that Summit will take a chance on him as a lead. We just wish it wasn't in a goddamn vampire movie.