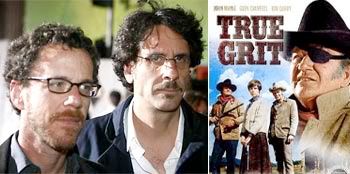 Are you a girl between the ages of 12 and 17 who is tough as nails with unusually steely nerves, a straight forward manner and plenty of true grit and determination?

Look no further: the Coens Brothers have now turned to the internet in their search for the young female lead of their upcoming Western, "True Grit."

With Matt Damon and Jeff Bridges set to star as the the two marshals accompanying young Mattie on her quest to find her father's killer (Josh Brolin), the role is integral to the film. We assume the current batch of Hollywood tween actresses are probably not fit for the role as the film's casting department has created a website to help them scour the globe for someone to play the part.

According to the site, the filmmakers are looking for someone "sassy, fearless, sure of herself, doesn't care if the other person likes her, gets her way!" They should not be "sad," "weak" or "cutesy" (sorry, Elle Fanning) but be "real" and "feisty." We suggested the likes of Mia Wasikowska, Alison Pill or Saoirse Ronan for the role but, by the sounds of it, they're after someone probably a bit younger (Ronan is 15 but doesn't look her age), tougher, and with a naturally acid tongue.

Filming is noted as taking place in the Spring of 2010 and looks to be on track for the reported March start date. We previously reviewed the script noting that it lives up to its gritty name, isn't as funny as advertised, has great potential to be another Coens classic and tone wise is somewhere in between "No Country For Old Men" and "A Serious Man."

Three page from the Coens' script are available for reading with open calls and self-tapings closing on January 9th.