David Cronenberg has evidently recruited the trio of Keira Knightley, Christoph Waltz and Michael Fassbender for his long-gestating adaptation of Christopher Hampton's "The Talking Cure," according to Australian distributor Hopscotch Films.

After his potential Tom Cruise-Denzel Washington-starrer "The Matarese Circle" died earlier this year when Cruise chose to star in James Mangold's "Knight & Day" instead, Cronenberg turned to an adaptation of Don DeLillo's "Cosmopolis" which was due to begin in 2010.

It's not known whether that project is still in the works but with rights to "The Talking Cure' already bought by the Australia distribution company, surely this project will be shooting first. The following synopsis was included in the acquisition announcement:

A beautiful young woman, driven mad by her past. An ambitious doctor on a mission to succeed. An esteemed mentor with a revolutionary cure. Let the mind games begin…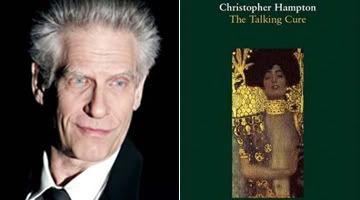 Hampton's play follows the founding fathers of psychoanalysis, Carl Jung and Sigmund Freud, and their complicated relationships with a brilliant and beautiful patient, Sabina Spielrein.

Cronenberg was first linked to the project in 2007, but word has been hush since the initial announcement two years ago, though /film did notice a hint in a Variety article last month that brought up the film in a piece about the financing and sales company behind it's production, Hanway Films.

Production was originally set to take place in Germany and, with Knightley, Waltz and Fassbender as the protagonising trio, a European shoot seems likely. Either way, it'll be fascinating to see what Cronenberg can conjur up after his last two films, the Viggo Mortensen led "A History Of Violence" and "Eastern Promises."