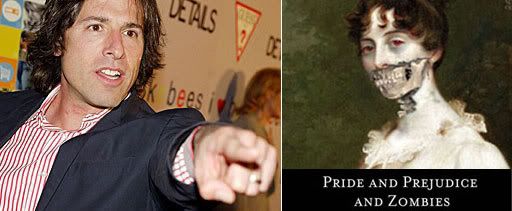 Color us surprised and very, very excited. Pajiba (where do these guys have their moles?) are reporting that David O. Russell is attached to write and direct the Natalie Portman produced and starring adaptation of "Pride & Prejudice & Zombies."

The news is very intriguing for a number of reasons. Firstly, it will be the first time Russell is helming both a period and horror picture. Secondly, given his um, "reputation", as an asshole a taskmaster on set, it's a bit of a surprise he's being given the reins on what is a pretty important, expensive project, that will also mark his first foray with extensive special effects (his film "Nailed" had its set of massive problems too and still hasn't even seen the light of day; though recent reports suggest an eventual DVD release might be possible). We suppose that Portman and Russell really hit it off, but the director is also known for deviating off script, improvising and just plain making shit up on the fly so it will be interesting to see how that relationship plays out two weeks into production when Russell is screaming for another take for something that he just thought of that morning.

But actually, maybe none of it is surprising at all. By all accounts, the recently wrapped "The Fighter", with Christian Bale and the one guy in Hollywood who seems to get along with Russell, Mark Wahlberg, seems to have gone off without a hitch. But then again, the Christian Bale "Terminator" meltdown and the Lily Tomlin "Huckabees" freakout all came to light much later so who knows. But Russell's reputation might be a thing of the past, he's been attached to a plethora of projects this year — the Southern-Fried comedy, "Grackle" (which does sound like its a thing of the past), the romantic comedy, "Aaron & Sarah," and the comedic, mental breakdown film, "The Silver Linings Playbook" for the Weinstein Company — so people are either over his past problems, or just think his brillance overshadows any potential issues.

For all our surprise, it could just be that given the tight fists that control the money these days in Hollywood, David O. Russell prefers to jump onto a sure-fire studio project, rather than try and shepherd his own script through the system or even independently. As aforementioned, the director was severely burned with "Nailed," his still unfinished indie comedy that is currently caught in a legal and economic quagmire. The production was plagued with money woes, causing shooting to shut down and restart more than a few times. With "The Fighter" a Paramount production, and "Pride & Prejudice & Zombies" certain to easily grab financing, most likely from one of the big studios, Russell may just be enjoying working on projects that allow him to arrive on set and shoot without having to worry about where the cash is coming from.