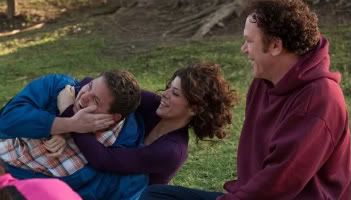 Here is your first look at the Duplass Brothers' upcoming film starring Marisa Tomei, John C. Reilly and Jonah Hill.

Premiering at next year's Sundance Film Festival and it's nationwide Sundance USA, the film has now evidently changed it's title to "Cyrus." That stands to reason but — shortly after we reported it's last title change (to "Center Of Attention"), we were informed that the title had tested poorly and would likely be changed again. We're just wondering why they landed on a title seemingly synonymously associated with a certain teenage celebrity?

"Cyrus" follows the story of a divorcee (Reilly) who gets a second chance at love when he begins an affair with a free spirited woman (Tomei) only to realize that her close knit relationship with her son (Hill) is getting in the way. What then transpires has been described by co-director Mark Duplass as a "very bizarre co-dependent relationship" that develops into an "obtuse love triangle as Reilly and Hill wrestle for Tomei's love."

The film's inclusion in the Sundance USA initiative also sheds light on Catherine Keener's participation in the film. Our guess would be that she'll play Reilly's ex-wife who may or may not make splashes on her former husband's life. Her addition only adds to our excitement for this project, which marks the Duplass Brothers' first time working with big name actors, and what a great cast it is.

UPDATE: The film's newly-updated Sundance page now has a synopsis which explains that Cyrus is the name of Hill's character:

The Duplass brothers are back with their singular knack: treating us to a tingling, irresistible experience of utter discomfort—suffused with pathos, romance, irony, and a little dollop of horror. This time they intrepidly mine Oedipal terrain to wrestle with stirring, profound questions about the obstacles to human intimacy.

Alone and acutely depressed, having just learned of his ex-wife's wedding plans, John can't believe his luck when he encounters beautiful, charming Molly at a party. The two get along famously and launch a passionate affair, until Molly's 21-year-old son, Cyrus, enters the scene. Will Molly and Cyrus's deep and idiosyncratic bond leave room for John?

Cyrus becomes a dark, poignant, sometimes hilarious war dance as Molly, Cyrus, and John walk the line between creepy and sympathetic. Each member of this awkward triangle teeters somewhere between bare honesty and furtive manipulation as he or she lets loose all manner of dysfunctionality. The excruciating, delightful fun is seeing where the boundaries ultimately land.