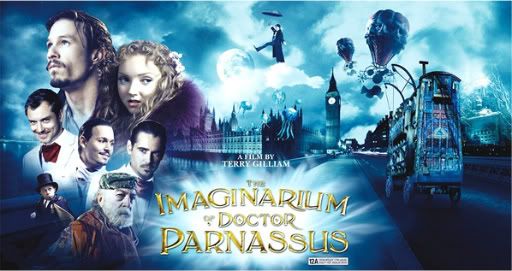 We've gotten a lot of flack from a certain contingent of Terry Gilliam fanboys for our supposed agenda against the director, but the truth is, we're not out for blood, and we certainly never want an inventive and unique filmmaker like Gilliam to fail. All that said, we review what's on the screen, not the guy who made it, and as much as we love him, "The Imaginarium Of Doctor Parnassus" is a pretty major misfire.

As with most Gilliam films (especially lately), the story behind it has ended up being more intriguing than the resulting picture onscreen. Stalled, and then eventually rebooted after the death of Heath Ledger, Gilliam's film in every way feels like a picture made under duress. Oddly paced, with a narrative that seems to unfold in the most unnecessarily convoluted way possible, you practically hear the cogs of the plot creaking to accommodate working around Ledger's death. While the solution sort of works for most of the film, the final act of the film is seriously hampered by Ledger's absence, causing a dramatic shift in focus that doesn't quite make sense with the rest of the film (that already has a hard time trying to figure out who the protagonist is).

The film's opening twenty to thirty minutes are easily its worst and most lugubrious. Achingly slow and over-explained, the first quarter of the film, in exacting detail, sets up the characters and in particular shows us how Tony (Heath Ledger) joins Dr. Parnassus' (Christopher Plummer) merry band of travelers. A lot of the character set up here (sort of) pays off down the road, but there is nothing in the opening that couldn't easily be cut in half. Anyway, we learn here of Parnassus' deal with the devil aka Mr. Nick (played on autopilot by Tom Waits) where in exchange for everlasting life, his firstborn will become Nick's at the age of sixteen. If the trailer can explain this in twenty seconds, we're not sure why we needed a half-hour of needless background here.


The film doesn't really come to life until Tony, who is sort of a "chosen one" revamps Dr. Parnassus' wheezing sideshow for modern day London audiences who are allured by the razzle dazzle and the promise of something money can't buy. As the new show is launching, Dr. Parnassus and Mr. Nick renegotiate their deal so that the first one to "five souls" wins. Tony's sexier and flashier new show starts to bring the souls in, who get to live out their wildest fantasies by stepping through a funhouse mirror.

Guided by Tony on the other side (the fantasy sequences are largely where we get the scenes from the 11th hour additions of Jude Law, Johnny Depp and Colin Farrell), their dreams are made tangible (by some lackluster CGI) and they can explore and walk through the environment. Disappointingly, none of these dreamworlds are particularly memorable. One rich lady loves shoes, so when she walks through she's in a world of giant shoes....um, kind of funny but really? You're going to blow your special effects budget on big, fake looking shoes? So overwhelmed by what they've seen, the ladies (no men seem to want to go through the mirror, despite one of the spectacles of the show being a nude and comely Lily Cole) come out of the mirror and empty their purses into the donation bin. Things are going swimmingly until some gangsters (don't ask, its another subplot that's sort of important but ends up being forgotten) cause trouble and shut things down before Parnassus can get the last soul he needs.



From here, the film goes positively off the deep end. As we mentioned the film has a difficult time fixing itself on one character's journey and instead seems to want to focus on all of them. So we have Valentina's (Cole) coming of age; Dr. Parnassus' eternal struggle with the Devil and Tony's path to redemption (did we mention he's an amnesiac charity head that disappeared under a cloud of scandal? This is what we mean by convoluted) all vying for attention and all unsatisfactorily handled.

Earlier parts of the film where Valentina dreams of a normal life with a house and husband are left behind after she meets Tony; but Tony is sort of forgotten once the film begins to focus on the battle between Dr. Parnassus and Mr. Nick. Then there is Anton (Andrew Garfield) who is also vying for Valentina's affections but he seems to gum up the works whenever it seems convenient to add a few more minutes to the running time. Eventually, the plot ties itself up, sort of, with a cornball ending that leaves you wondering how much better the film would've been had Ledger survived to finish it.

The EIC reviewed the film after seeing it at TIFF, and we do agree with his final assessment that aside from strong performances by Cole, Farrell (and Ledger too) the film is really a third or fourth-rate Gilliam effort. While our EIC found the effects work to be lacking, we don't think it was that bad, and we've certainly seen far worse (on much higher budgets). The biggest fault of the CGI is that its just really not all that memorable or exciting.

We feel for Terry Gilliam, because there was probably a really good film in here, but once again, circumstances outside of the director's control forced him to greatly compromise his original concept. We just hope his next picture can make it from beginning to end without natural disasters, studio interference or acts of Gods getting in the way. [C]