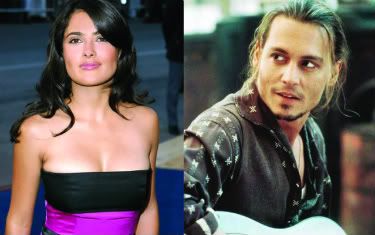 Johnny Depp is in "advanced negotiations" to join Emir Kusturica's "Seven Friends of Pancho Villa and the Woman With Six Fingers," a biopic about the famous revolutionary .

Depp, who previously worked with Kusturica on the excellent and underrated "Arizona Dream" way back in 1993, would play the lead role, and would act in Spanish. Depp's "Desperado" co-star, Salma Hayek, is being courted for a role as well, probably as the six fingered woman (Javier Bardem was also rumored to be apart of this at one point too; it remains unclear what his involvement is now if any).

The film, scripted by longtime Kusturica collaborator Gordan Mihic, is an adaptation of the novel "The Friends of Pancho Villa" by James Carlos Blak in which "Villa and his compadres had a great time fighting and robbing the rich, but also dancing, partying and making love." Sounds like a blast (and Javier Bardem was once apart of).

However, with Johnny Depp busy filming "Pirates Of The Caribbean: On Stranger Tides" and "The Tourist" throughout 2010, "Seven Friends Of Pancho Villa and the Woman With Six Fingers" is not expected to shoot until 2011. But Kusturica won't be sitting around waiting for his phone ring. Next year, he's planning to shoot "Cool Water," a black comedy "set amid the MidEast conflict, about a Palestinian stripper working in Germany who returns to her homeland to bury her dead father."

Oh, and if you haven't seen "Arizona Dream" do yourself a favor and track down a copy right now. The nutball film is a charming love letter to American movies and features the most eclectic cast you'll ever see in your lifetime including Jerry Lewis, Vincent Gallo (in one of this funniest roles), Faye Dunaway and Lili Taylor. It's not on DVD in R1 land (probably due to issues clearing the extensive use of clips from "North By Northwest" and "The Godfather" in the film) but if you have an all-region player or even a VCR, it's worth the hunt.