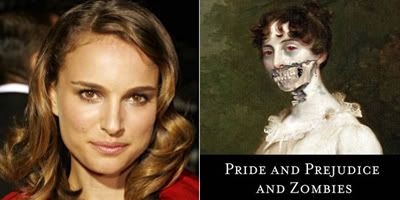 Natalie Portman is set to produce and star in an upcoming adaptation of Seth Grahame-Smith's mash-up novel "Pride And Prejudice And Zombies," according to Variety.

The actress was linked to the project earlier in the year and is now signed on to play the film's protagonist heroine as well as produce under her handsomecharlie banner.

First published in 2009, Grahame-Smith's novel puts an undead spin on Jane Austen's classic novel and follows feisty Elizabeth Bennet (Portman) on her "quest for love and independence amid the outbreak of a deadly virus that turns the undead into vicious killers" only to be distracted by the arrival of a monster-hunter, Mr. Darcy. Interestingly, Portman doppelgänger Keira Knightley portrayed Bennet in Joe Wright's 2005 adaptation of Austen's original.

'Zombies' peaked as high as third on the New York Times Best Seller's list in April and has already spawned one sequel, "Sense And Sensibility And Sea Monsters," with a prequel due early next year, "Pride And Prejudice And Zombies: Dawn Of The Dreadfuls."

The proficient Portman can currently be seen in Jim Sheridan's potential Oscar-contender "Brothers" alongside Jake Gyllenhaal and Tobey Maguire but also has Spencer Susser's "Hesher" with Joseph Gordon-Levitt and Rainn Wilson debuting at next year's Sundance and David Gordon-Green's "Your Highness" with James Franco, Danny McBride and Zooey Deschanel due out next October. On top of that, the actress is also currently shooting Darren Aronofsky's "Black Swan" with Mila Kunis and is due to shoot with Kenneth Branagh and his massive cast on "Thor" sometime next year.