So, we reported yesterday that Paul Greengrass had given up the helm of the fourth entry in the Jason Bourne franchise that he made his name on, due to several creative differences, and, in particular, because Universal hired Josh Zetumer to write a "parallel" script without consulting the director. Earlier today, Sharon Waxman over at The Wrap echoed our report (echoed being a polite word for it), while saying that no script for the film existed.

We don't want to say "we told you so", but, you know... Variety (who in an unusual turn of events for a trade paper, and one that Waxman could learn from, quite frankly, acknowledged our piece in their report) have a statement from Greengrass, via Universal. In it, he tells them, "You won't find a more devoted supporter of the Bourne franchise than me. I will always be grateful to have been the caretaker to Jason Bourne over the course of 'The Bourne Supremacy' and 'The Bourne Ultimatum.' I'm very proud of those films and feel they express everything I most passionately believe about the possibility of making quality movies in the mainstream. My decision to not return a third time as director is simply about feeling the call for a different challenge. There's been no disagreement with Universal Pictures. The opportunity to work with the Bourne family again is a difficult thing to pass up, but we have discussed this together and they have been incredibly understanding and supportive. I've been lucky enough to have made four films for Universal, and our relationship continues. Jason Bourne existed before me and will continue, and I hope to remain involved in some capacity as the series moves on."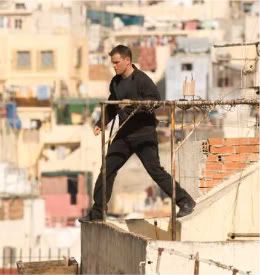 Variety also confirms, later down in the piece, that two parallel scripts do exist. They also suggest (although it's just strong speculation at this point) that George Nolfi, who was credited on "The Bourne Ultimatum," and wrote the first draft of the new script, could, following his directorial debut on the Matt Damon-starring "The Adjustment Bureau," step up to replace Greengrass, but we reckon that if the studio weren't happy with his script, that's fairly unlikely. Then again, if Damon were to back it -- and they obviously need him -- it is a possibility. Tony Gilroy is also mentioned as a possible replacement, but his "Duplicity" underperformed for the studio earlier this year. He also had a famous falling out with Greengrass on "Ultimatum," but then again, if everyone held grudges in Hollywood, zero films would ever be made.

They might just want to let this thing die a dignified death. We're big fans of the original trilogy, but it was very much a trilogy - we can't see anywhere to go with the character at this point, and we'd rather it was just left alone. And indeed, we're happy to see Greengrass move on too -- it's been clear that his heart wasn't in it, at least not in its current fractious state, and we'd rather see him on something he was more passionate about. However, too much rides on the continued success of 'Bourne.' Don't expect this story to be over quite yet.