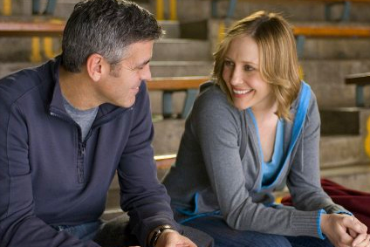 It's a bit racist to label a subgenre of awards-friendly movies White People Trauma cinema in that it trivializes the universal emotions of these films. And yet, because the critical and awards cognoscenti is comprised mostly of white males, these are the films that end up being celebrated by people who seem, themselves, mirrored in each narrative. Even when they do pay lip service to outside worlds it's secondary to the lead character's issues.

This comes up again in another seemingly White People Trauma movie, awards-hopeful "Up In The Air," which perfectly illustrates why it's harder to make movies with a social conscience in today's climate than it was in the less-connected era of Billy Wilder, or even Hal Ashby. To encapsulate the American experience, you have to take into account an audience's modern cynicism, but you shouldn't be feeding it, like Jason Reitman's third film does.


"Up In The Air" concerns Ryan Bingham, played with smug self-assurance by George Clooney. He's hired by airport companies to fly first class to different departments across the country, by now programmed to sympathetically fire people face to face. He's almost supernaturally dedicated to his job, and to the superficial comforts of the open air. Of course, the film's central irony is that he's in danger of falling into unemployment himself. The company, in an attempt to cut costs, is shredding the human connection by using cam-to-cam communication for their downsizing needs, a move pioneered by wet-behind-the-ears newbie Natalie (Anna Kendrick). When Ryan is ordered to take Natalie out on the road, the two come to realize how they complement each other fairly well, both shoring up each other's shortcomings in ways that carry the narrative forward and deepen the characterizations these two actors create.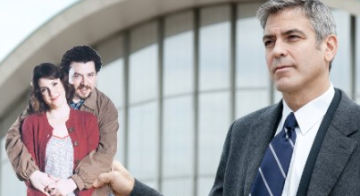 Natalie, as played by the whipsmart Kendrick, actually ends up being the film's most relatable and interesting character. Clooney begins things in a pretty sour mode, using corporate sarcasm to bed equally cynical traveler Alex, played with a steely career-woman drive by Vera Farmiga. As he (needlessly) narrates his travel details, his luggage concerns, and his indifferent, decidedly moviestar refusal to commit (and this is nothing if not George Clooney's version of a Judd Apatow part), we are repulsed by this open air charlatan, taking his dog-and-pony firing show to thrive off the misery of others. It's a credit to Clooney's career that only a few shades, intonations and acting decisions make this shark far more deplorable than any character he's played yet, and that includes the maddog serial killer of "From Dusk Till Dawn."


Introducing Natalie opens the movie up after a weary, surface-level beginning. It's difficult to understand why the film buries her introduction when she's clearly the entry point for these white collar shenanigans. Not only is she surrounded by older white males, but she's created a technology that is not only susceptible to her own human emotions, but also something capable of doing great harm. No doubt her naïve background trained her to believe this would be a profitable, exciting world, not one where she would be responsible for shepherding employees often twice her age to unemployment. Kendrick showcases the growing cracks in her façade, as she goes from being an unflappable businesswoman to someone who has to reassess her hopes and dreams in a rush.

And then, unfortunately, the film turns on her, and uses her as a mouthpiece for its themes. She goes from being a fully-formed character into one that is used primarily to serve the needs of our protagonist, and practically vanishes for the film's final half hour. Credit where credit's due- this leads into a third act where Ryan tries to do the right thing for the people around him, only to discover, in some cases, that the rest of the world isn't ready to slow down in order to appreciate his self-awakening. Without spoiling matters, it's unfortunate to report that not only does the movie not pursue this further - it's an American studio film, there needs to be SOME redemption - but Clooney can't convincingly make you believe that this selfish, materialistic asshole has somehow learned how to treat people right. It's a tough character arc, and Clooney doesn't sell the sincere kindness as well as he does the smug, self-serving egotism.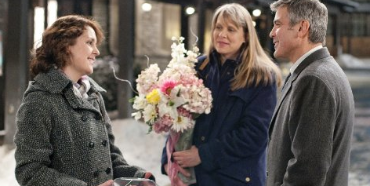 When considering a movie's impact, it's probably best not to get hung up on outside factors, but its impossible to avoid this movie's timeliness in the face of a rough economy. The film is littered with real life testimonials from people who have been fired in this climate, which feels a bit glib next to the narrative at hand. There's no comparison to the stakes of the film, particularly for Ryan, who seems to have saved his earnings in lieu of job perks and, at this point, is probably well-loaded. The objective of the narrative seems to be that he has no family and no bills to worry about, which just makes one wonder why the testimonials are there in the first place. How are we supposed to feel about these fired individuals, who do have families and bills to worry about, as the film ends? The first actual onscreen firing, inappropriately enough, is of funnyman Zack Galifinakis, and it's predictably played for broad "Simpsons"-y laughs.


Jason Reitman really fulfills what we've begun to notice as a common attribute of recent awards-friendly material- his direction is condescending, and even at some points a little stupid. Reitman is in love with the ironic close-ups, magnifying jokes and visual gags that are cheap and secondhand, and yet still are the focus of the frame, in what should be a mature story for and about adults. He also can't resist having characters spout dialogue that underlines and italicizes the story and its themes. In the end, Ryan's situation is so blindly obvious that a voiceover is superfluous. Further expository dialogue on this subject only exacerbates this problem, that he doesn't trust us to pick up on Ryan's empty life being filled with dull airports, baggage claims and unoccupied hotel rooms. Take out all the material talking down to the audience - Ryan's sister emphasizing he doesn't go out of his way to help, Ryan's go-to metaphor of a piece of luggage representing your life - and this movie runs forty minutes long. Maybe that's the problem with today's empty awards-bait. Maybe these movies are just too damned long. [C]