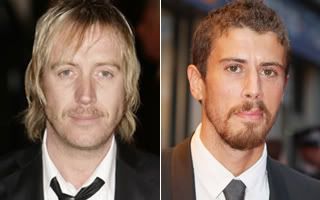 — Brit actors Rhys Ifans (who seems to share the same hairdresser as the kid from "Let The Right One In") and Toby Kebbell have joined the cast of Mitch Glazer's "Passion Play." The Mickey Rourke and Megan Fox led indie will see Rourke as a down-and-out trumpet player who seeks redemption through Fox's 1950's Los Angeles "angel," a caged circus freak with angel-like wings growing out of her back. Shooting begins next week in New Mexico.

— Looks like someone got in trouble... "Dark Shadows" producer Graham King has now back-tracked on his earlier comments about a possible October start date for the Tim Burton-Johnny Depp collaboration: "I said to someone last week in L.A., I said, 'You know, I think, you know the script's being rewritten – I know that the studios are hoping to move it next fall,' suddenly it's on the internet everywhere I said the movie's going next October. Waiting for a script. I know Johnny wants to do it and Tim wants to do it and just has to get the script."

—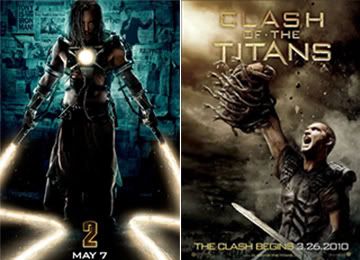 Mickey Rourke also features in the newest "Iron Man 2" poster whose release coincides with that of a series of new "Clash Of The Titans" posters starring Sam Worthington.

— It's only numbers but Guy Ritchie's "Sherlock Holmes" is reportedly tracking much stronger than James Cameron's "Avatar." Surely, it has something to do with one, Robert Downey Jr rocketing to the top of the Hollywood food chain?

— Here is an ad that reunites "Burn After Reading" co-stars George Clooney (who is actually a Nescafé ambassador) and John Malkovich. Seems a bit over-extravagant for a 30 second coffee ad, right?