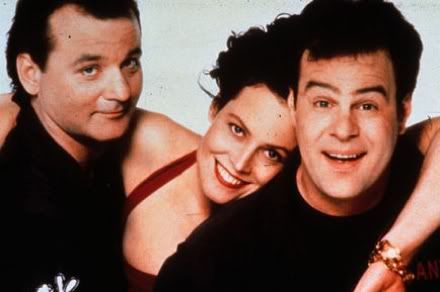 Sigourney Weaver recently took to her press tour for James Cameron's "Avatar" to discuss the will-it-or-won't-it-happen "Ghostbusters 3" and her upcoming role in Miguel Arteta's road-trip comedy "Cedar Rapids."

Weaver previously threw a curve ball by announcing that Bill Murray will be playing a ghost in the upcoming sequel and that her son, Oscar, will be playing a new generation Ghostbuster. The actress now claims that Murray's character "could come back as a sort of Slimer character" and reaffirms that her "little son Oscar who was kidnapped is a Ghostbuster."

For all her insight, one would expect Weaver has either read the script or is part of the creative process behind it all, right? Not quite. The actress then goes on to reveal that she hasn't even laid eyes on a script yet and was only contacted by Ivan Reitman about it recently.

"I haven't read the script," she reveals. "They're sending me the script...Ivan Reitman called me the other day and said he would love me to take a look at it. In a few weeks I'll actually know what it is, though I probably won't be able to talk about it." Back to square one then?


Weaver also let slip on her "Avatar" world tour that her role in "Cedar Rapids" - which was previously revealed to be that of a "former seventh-grade teacher" - will be the romantic interest for Ed Helms' protagonist.

"I play his grade-school science teacher that he had a crush on," Weaver explained. "Years later, we consummate our relationship and are going out, but I have to break it off because he's so serious about me."

The older woman-younger man dynamic will be interesting to see and actually suits the on-screen persona Helms has developed, which we presume he will persist with. Helms played the lesser of a couple in his break-out film "The Hangover."

'Rapids' centers on a small-town, sad-sack insurance salesman (Helms), who, after the death of his role model, must represent his company and try save the jobs of his colleagues at a conference in Cedar Rapids, Iowa. Shooting is currently taking place with Alexander Payne producing and an impressive cast consisting of John C.Reilly, Alia Shawkat, Stephen Root and Anne Heche.