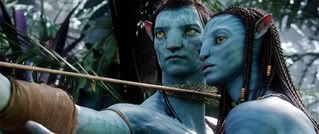 So... "Avatar." You like it, you really really like it. After a solid opening weekend in 3D box office terms, the film dropped only 2.6% from last period's intake, winning with a superspectacular $75 million, the best second weekend in history, and a ten day total of $212 mil. Hooray for megabudgeted anti-corporation big blockbusters made by big corporations! "Avatar" has connected big time, and with more holidays off and word of mouth spreading ("I don't remember what it was about but... blue things!"), it's got a shot at $300 million by next weekend and at least a $400 domestic take. Combined with an even bigger international score, and "Avatar" may be a billion dollar success. Of course, no one has any idea how much production + marketing went into "Avatar," but you'd have to believe that this movie needed a giant number to break even, and it looks like that's being achieved. "Avatar" doesn't have much to worry about in the dead months of January either, and with the dominance over IMAX screens, this could only be the beginning of another mammoth financial achievement for James Cameron. This would mean... more artistic freedom than any filmmaker has ever had, right? You will do something with this, other than a boy's adventure film this time, right? Right?

"Sherlock Holmes" was the bridesmaid this weekend, but don't weep for the detective yarn, which exploded onto the scene with $65 million. Reportedly, audiences were very cool on the film, likely because it's veddy British, but after that opening, we can see a more glamorous sequel with an A/B+ star as the villanous Moriarity. It's too bad Eddie Marsan is already playing a thankless role in the franchise, because we felt bad for the "Hancock" villain after he was so spittingly scary and irritable in "Happy-Go-Lucky." Though we can't wait for whatever obnoxious, gimmicky, egocentric spin Brad Pitt or Johnny Depp puts on the role. At #3 was the odious children's offering "Alvin And The Chipmunks: The Squeakquel," which did $50 million for the three day and $77 since it's Wednesday opening, topping the first film's $44 million take. Congratulations, America, you still hate your kids.


For the parents who hate themselves, "It's Complicated" opened in a surprisingly distant fourth. It didn't open as big as Nancy Meyers' "What Women Want," but the audience for her films are never first weekend types, regardless of the Mel-lovers who rushed out for that one. Because bored housewives don't always have attractive poolboys to seduce, the weekday grosses for the film should be a big success through January, but the cost of this thing does make a profit chase a bit more daunting. What is up, Universal? You gave Judd Apatow and Nancy Meyers $80 million each this year for continued variations on their own middlebrow rich white people insecurities and their movies opened exactly the same. If $80 million buys you movies that place a premium on profanity and furniture, can you guys at least pay our heating bill this month for writing this column and giving your movies ("Funny People" was the other one!) a few extra Google hits?

Not to harp on this but damn, this might be the whitest holiday box office season in history. While "Precious" languishes under $50 million total and "The Princess And The Frog" lurches over $60, "Up In The Air" and "The Blind Side" scrap for #5. "Blind" will happily concede to the George Clooney suitcase saga, given how it's preposterous success (+17% this weekend despite 600 less theaters and a $184 total) is more than enough to crow about this holiday season. With $200 in its sights, "The Blind Side" is not only a bonafide success, but as a "serious" drama released during the holiday season it's gotten the people's vote should WB push hard enough to get deep into the awards picture. Had there been no other blockbusters with critical appeal this season, "The Blind Side" would be a legit entry into the final ten, and surely would have surpassed the likes of "The Curious Case Of Benjamin Button" in last year's sorry awards ceremony. What all of this has to say about the American film economy is retardedly tragic. Meanwhile, "Up In The Air" falls in with Clooney's other recent wide openings. If a measure of a movie star is the ability to get anything to a $12 million opening weekend, then George Clooney is a titan.

"The Princess And The Frog" kept swinging at #7, but it looks like it'll tap out before $100, while "Nine" expanded to a pretty weak $5.5 on over 1000 screens, further proof that people really don't care about going behind the scenes of a movie, especially a movie within a movie based on a play based on a movie that was Italian and obscure to mainstream audiences and would register to 0.0005% of today's filmgoers. Again, the number being thrown around for this was $80 million. Does no one in this town understand the value of a dollar? Imagining the craft services on these sets makes our tummies rumble, even during the holiday season.


"Did You Hear About The Morgans?" Guess not. Meanwhile, "Invictus" is still bringing in a very specific demographic and has scored $23 in three weeks, though we'd assume the story will have stronger international appeal. The week's biggest per-screen average belongs to "The Imaginarium Of Dr. Parnassus," which registered $32k per screen for $130k on four screens, while other indie successes include "The Young Victoria" taking in $600k in its second weekend, "The Road" at $429k in its fifth weekend, "Broken Embraces" closing out weekend six with $360k and "A Single Man" wittling down after weekend three at $323k. The highest grossing of these, by far, is "The Road" with $5.8 million, or apparently $13 million less than "The Squeakuel" did in its first day. Yay movies.

1. Avatar- $75 million ($212 mil.)
2. Sherlock Holmes- $65 million
3. Alvin And The Four Horsemen: The Squeakuel- $50.2 million ($77 mil.)
4. Nancy Meyers' Random Title Generator- $22.1 million
5. Up In The Air- $11.8 million ($25 mil.)
6. The Proud White Christian- $11.7 million ($184 mil.)
7. The Princess And The Frog- $8.7 million ($63 mil.)
8. Nine- $5.5 million ($6 mil.)
9. Wait, Were You The One Who Asked About The Morgans?- $5 million ($16 mil.)
10. Invictus- $4.4 million ($23 mil.)