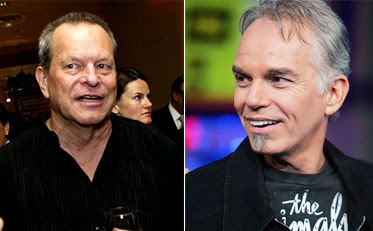 A spoiler-full synopsis of Terry Gilliam's potential follow up to "The Imaginarium Of Doctor Parnassus" has appeared online.

The Pat Rushin scribed "Zero Theorem" will reportedly follow a reclusive 'cubicle zombie' as he juggles a top secret project involving an unsolvable theorem, a relationship with a gorgeous young woman, a friendship with a young rebellious whizkid and questions of his own existence/piece of mind. /Film originally described it in their script review as a "science-fiction drama that skidded on the turnpike and ended up ditches in a psychogenic fugue."

Here's the first two graphs of the synopsis, read at your own risk.

Qohen Leth, a socially maladjusted "cubicle zombie" with a genius for computer work, is waiting for a phone call. His entire life has been consumed with the wait for this call. He doesn't know the nature and origin of the call, but he knows it will provide him with the purpose that he has long lived without.

Qohen is given a special project by his corporate managers. His task is to solve a mysterious theorem that has stumped, and mentally broken, the long list of computer geniuses that were previously assigned the job.
The film is reportedly set to start shooting in May of this year with Billy Bob Thornton attached to the lead role. This would fit in perfect with Thornton recently much-publicised band, The Boxmasters, who finish their current tour on the 24th of this month.

Meanwhile, Gilliam's 'Doctor Parnassus' is set for a Fall release of this year. There's also been recent speculation that the film could debut at the Cannes Film Festival which some have erroneously reported as fact.