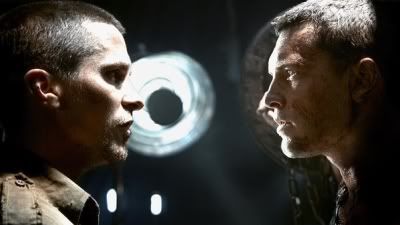 There's a moment, about five minutes into "Terminator Salvation" (after a truly awful prologue), where a text screen goes up, explaining everything about the history of the Terminator robot, and the Terminator franchise. It doesn't really mean anything, really. It could have just said, "Humans made robots, robots fought back, and the world pretty much ended." But there's such a strained attempt at gravitas (this is, after all, a movie about killer robots) that it just comes across as groan inducing in its triteness. If there's one good thing about this text screen, though, it's that it is consistent with the rest of the movie.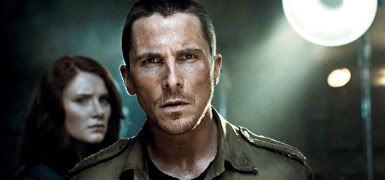 The premise of this Terminator movie (the fourth, for those that are counting), is that we're in the middle of the robot/human conflict... or at least at the beginning of it. (More on that in a minute.) The vaguely prophesized John Connor (a characteristically dour Christian Bale) leads a ragtag group of personality-deprived freedom fighters, among them rapper Common and Moon Bloodgood (proving that cleavage is an important weapon in the fight against robotic oppression), against the evil computer entity known as Skynet. Skynet makes itself known through the terminators - hovering terminators, terminators that look like motorcycles for some reason, slippery snake terminators, skeletal terminators and terminators that just look like giant fucking robots (subtle, Skynet).


The movie's central "plot" concerns Marcus Wright (Sam Worthington), a death row inmate and recent escapee from one of the Skynet detention centers (why they're wrangling people up we never really know), who forges an alliance with Kyle Reese (Anton Yelchin), who will later go back in time and impregnate John Connor's mother, thus giving birth to John Connor, leader of the human resistance against the machines… If you've gone cross-eyed reading that sentence, then you're not. The time travel quantum mechanics of the series have become such a knotty pretzel that the filmmakers choose to not even really acknowledge them. Connor knows he's got to find Reese because he's his father. And that's pretty much it.

Director McG, who has lobbied long and hard, in both the mainstream press and more insular geek circles, to convince the world that he's the right man to make a hardcore, gritty Terminator movie, utterly fails. Just because you liked "Children of Men" doesn't mean that you can make an awesome post apocalyptic movie. For a man that formerly made a living directing music videos, the movie has an absurd lack of rhythm or pace - action scenes begin and without much provocation; there's a truly tasteless and out-of-the-blue redneck rape attempt; and once about every twenty minutes something huge and metallic blows up, as if McG is trying to remind us that this is an action movie, and in action movies, shit explodes.


The production and costume design isn't all that different from every post 'Road Warrior' grunge-athon. People wear layer upon layer of heavy clothes even though they're in the middle of a nuclear scorched desert. At one point, we're with the human cattle as they're being moved into holding cells, and there are small fiery bursts that are happening all around the set, for no discernable reason. It's like they shot parts of the movie at a heavy metal concert in 1986.

Similarly, the action sequences and visual effects are uninspired and overcooked to the point of being an ineffectual screensaver. The "harvester" chase sequence that everyone is talking about, in which two of our heroes are pursued by those motorcycle terminators and a big, hulking terminator too, is edited to death, (did we really need to see the motorcycle terminator's point of view?) and conjures the chase sequence from last year's underrated junky sci-fi movie "Doomsday." Except with one small exception - "Doomsday" had a kicky zip to its action sequences. These are pre-terminated.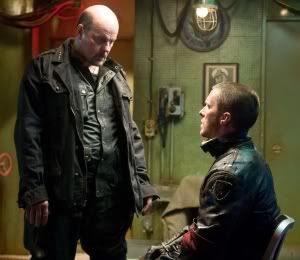 But chief amongst "Terminator Salvation's" problems is the lack of any character to give a shit about. Bale's Connor is a prophesized warrior, but all we ever do is see him get into situations where everyone on the team besides him is killed. We know he's a renegade because Michael Ironside, sporting an iffy facial scar, yells at him about following orders from a resistance base that is actually a WWII submarine. Connor's mission in the movie is to turn on a radio wave that shuts down the machines and to make many longwinded speeches about destiny redemption (and, yes, salvation). Yawn.

Worthington's Marcus is a more engaging character, and becomes positively compelling towards the end of the movie, after we find out he's a terminator who doesn't know he's leading the resistance into an elaborate trap. But his arc is wrapped up by movie's end, and as a terminator he's saddled with being the charming hero and the menacing villain, and comes off as neither.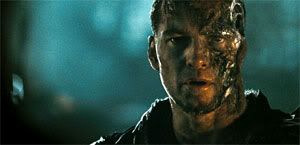 By the end of the movie, nothing's really resolved and nothing really happens. There isn't any time travel, Connor doesn't even tell Reese about his mother, the robots are still killing people, McG is still shooting the whole thing in a boring, sun-bleached way. There's no headway made, no progress into those electrifying, chrome blue prologues that the other movies featured, of hordes of terminators marching over human skulls. At the beginning of the movie, the humans are fighting for their humanity against the machines, at the end of the movie, the humans are fighting for their humanity against the machines. As far as dramatic arcs (and Terminator movies) go, we've seen better.

For an enjoyable sci-fi movie that handles time travel (and our struggle for humanity) well, and kicks off an exciting new franchise in a vital way, well, "Star Trek" should be playing down the hall. [D] - Drew Taylor