Woody Allen will follow up his upcoming untitled London set project with a romantic drama set in Paris, according to Screen Daily.

The project will continue Allen's partnership with Spanish producing company Mediapro and will be the second of a three-picture deal Allen signed after working with company on "Vicky Cristina Barcelona." The first of which is his London set project starring Naomi Watts, Antonio Banderas, Freida Pinto, Josh Brolin and Anthony Hopkins which is set to commence shooting this summer.

The current relationship between Allen and Mediapro and his run of films set and show in Europe may actually have been conceived more out of functionality than convenience or desirability. At a recent press conference for "Whatever Works," via Hollywood Elsewhere, Allen revealed that the London-based project was first conceived as a story set in New York before financial problems forced him to alter the story as was the case the case for his 2005 film "Match Point."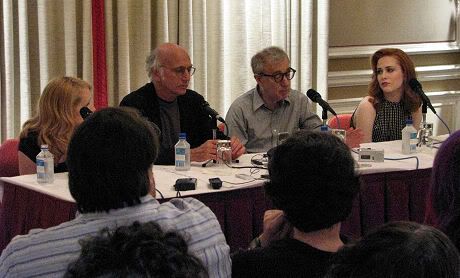 "I was going to make my next project in New York and I couldn't afford to," the director revealed. "It was millions of dollars short if I made it in New York so I thought maybe I'll make it in San Francisco cause' that's also a very good city but I couldn't afford to make it in San Francisco either cause' that was too expensive so we shifted it to London, made the cast British just as I had done with 'Match Point.' I had written that for New York and the Hamptons and Palm Beach and I had written it as an American story and I anglicized it cause' to make it in New York was a fortune of money. The same with the film I'm doing next. To make it in New York is a lot of money, I can't afford it."

Allen still hopes to return to his native New York in the near future adding: "If I happen to write a film that budgets within my limited budget, I would certainly make it here."

His Paris-based film, meanwhile, is set to shoot in 2010 with the script still currently being written by Allen.