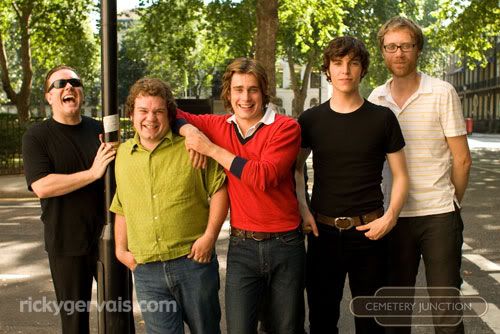 A whole host of details on Ricky Gervais and Stephen Merchant's "Cemetery Junction" have been unveiled courtesy of Gervais' own blog.

The film centers on three blue-collar friends in 1970's London as they bide their time "joking, drinking, fighting and chasing girls" and has three unknowns as the leads - from left to right in the photo Jack Doolan, Christian Cooke and Tom Hughes.

Big names Ralph Fiennes and Emily Watson, meanwhile, will play Mr. and Mrs. Kendrick, the ruthless heads of the company which the three protagonists presumably work in while Gervais will play the father of protagonist Freddie (Cooke) with Anne Reid and Julia Davis respectively playing the Gervais's mother and wife.

On the film, Gervais enthusiastically admitted: "It feels I'm really doing what I know again. It feels like me and Steve are returning to our roots and doing something we should have done before 'The Office' in many ways. We want this to be our masterpiece..."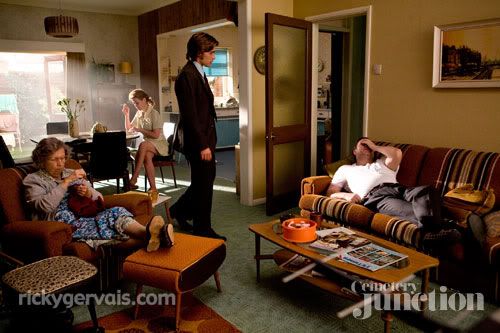 "[As a child] I never knew I was poor. I was always playing in the garden, chasing frogs, not sat on asphalt thinking, 'Why have I been born into a prison?' So we want to capture that sense of nobility in poverty."

"[Our film] is gonna be more like a British 'Saturday Night Fever' or you know, 'Rebel Without A Cause,'" Gervais added. "This is our 'Saturday Night, Sunday Morning.' It's very rock 'n' roll in a very, sort of, real and quiet way." Comparisons with Barry Levinson's "Diner" were also made by Gervais.

In addition, the BBC have released a behind-the-scenes look of the film's production - complete with more Ralph Fiennes jokes. The clip also has the first look at female lead Felicity Jones who will play Julie, the love interest of Cooke's protagonist Freddie.

Shooting is set to conclude in a month with plans for the film to hit theaters next spring in the U.K. - and hopefully not long after elsewhere.