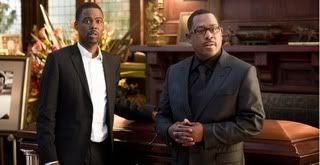 The American trailer for "Death At A Funeral," the remake to the British hit of 2007, has just surfaced. We're very much against the idea of Americans remaking recent foreign films, since the only thing they're changing in most instances is the language. Most recent foreign films that do appeal to American producers looking for remake material seem to be takeoffs of American concepts in the first place. Last year's French hit "Tell No One," which was paced like a very traditional American potboiler, was even inspired by a trashy American airport novel. Is it a surprise to know that American producers own the remake rights?

This practice lends itself to xenophobia, most Americans not wanting to experience ANY slice of a foreign culture no matter how you sell it, but the worst element of this is the prospect of American remakes of foreign films from English-speaking countries. Oh no, an accent! You'd think prize-winning playwright Neil LaBute would be able to inject something new into the proceedings, but this is also the LaBute who previously directed "Lakeview Terrace" and the remake of "The Wicker Man," so he clearly doesn't give a fuck. Case in point — even the TRAILER for the new version opens with the same gag as the original's trailer.

The premise of the film involves a family getting back together for the death of the presumably-influential patriarch, a convergence of opposite forces bound to cause conflict. In the middle of all this, there's a new boyfriend invited who's been given far too many drugs (James Marsden, filling in for Alan Tudyk), an uncle with far too many bowel problems (Danny Glover subbing for Peter Vaughan) and a secret gay lover looking for blackmail cash (Peter Dinklage). Each part was beneath the original actor, and it looks like that's being preserved for the newer go-round, with the trailer spoiling Marsden ending up naked on a rooftop, Glover shitting on his nephew (lucky Tracy Morgan) and Dinklage REPRISING his role as the gay midget, who's scary because he's gay (ew!) and because he's small (haw haw!). We're stunned Dinklage needed the money so bad he would return to the most degrading role he's ever played AGAIN, but hey, that's the recession for you. We've included a peek of the actor trying to maintain his dignity in Hollywood below.

We urge you to not even bother with the original, which has a decent cast, but isn't even in the tradition of Richard Curtis' Brit farces, with gags that seem to have been excised from the worst of mainstream American sitcoms. This version features Chris Rock, Martin Lawrence, Zoe Saldana, Luke Wilson, Danny Glover, James Marsden, Tracy Morgan, Peter Dinklage, Loretta Devine, Columbus Short, Kevin Hart and Regina Hall and will be released February 2010, at which point all these actors are off doing something to forget they were involved.