The Oscar race is turning into a weird and very ugly one this year.

Or perhaps because we've paid less attention than usual. The "big four" ended up being mostly a big waste of time: Peter Jackson's "The Lovely Bones" is — again, we'll repeat this line cause it really fits — a tampon commercial set to the music of Enya (at least all those terrible fluffy CGI-heaven moments are), "Nine" was a major disappointment, "Invictus" is moderately rousing, but still an average-to-ok work and now we obviously have "Avatar" which was met with some surprisingly breathless reviews, despite being just enjoyable B-movie. Even folks that we respect like Jeff Wells and Anne Thompson were in the tank for the movie (honestly we were a little shocked by that).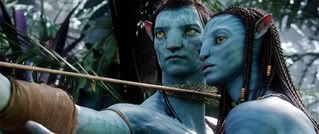 "Avatar" is a grand spectacle and like "Jurassic Park," it's a big slice of entertainment, but it doesn't deserve to be at the Oscar ball.

In fact, "Invictus," "Nine," "The Lovely Bones" and "Avatar" all don't deserve to be part of the 10 Best Picture nominees, but it's frightening to think that all of them have a very good shot, which is why the 10 Best Pictures idea is seemingly an even worse idea now than when it was announced in May. Yes, Oscars a weird popularity contest and definitely a shallow enterprise.


However, bonehead Oscar blogger Tom O'Neil is correct for once (we hope) when he says (paraphrased by Jeff Wells) that "The movie's greatest fight lies ahead at the Academy Awards, but James Cameron's film will probably trip up in the home stretch due to the Academy's old-fart contingent."

God, we've never wanted old farts to yield this much sway ever before. Even films that we didn't necessarily totally love like Quentin Tarantino's "Inglourious Basterds" have more business being in the top 10 Best pictures than any of these four aforementioned films. There's been some Oscar talk for Spike Jonze's "Where The Wild Things Are" and that's a much more front-to-back successful film than all of those as well. Let's not even forget the "The Messenger" which is a very, very fine film.

We're afraid the top 10 is going to look like this:
"Avatar," "Invictus," "Nine," "The Lovely Bones," "Precious: Based on the Novel Push by Sapphire," "Up in the Air," "An Education," "The Hurt Locker," A Serious Man," "Up"


When it should look like this:
"Precious: Based on the Novel Push by Sapphire," "Up in the Air," "An Education," "The Hurt Locker," A Serious Man," "Up, "A Single Man," "Bright Star"... fine if two of them MUST go in, "Nine" and "Invictus." Actually 'Inglourious' has a major shot here.

No, we don't care for "Precious" and that's not our definitive what the 10 Oscar picks should be (we'd probably even drop "Up" "Up In The Air"), but seriously, "the big 4" should not make it and its disheartening to think they'll all make it.


"Bright Star" and "A Single Man" don't seem to have enough box-office or support to earn nominations, but they're both tremendously deserving, should be there and both do contain traces for Oscar-baity-ness (Jane Campion's film certainly is Oscar-bait, but unfortunately has been inexplicably overlooked). This years Oscars may prove that this institution is only occasionally worth following closely (and 2007 and 2008 were both very respectable Oscar years that skeptics need not be embarrassed about).

Come February when the announcements are made, we fear we're going to be majorly disappointed.