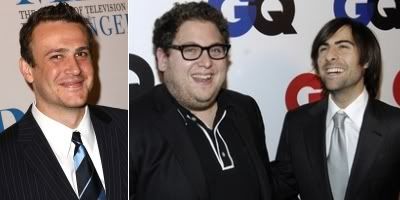 Curious about what's going on "The Adventurer's Handbook"? Remember that project? The much-touted, very expensive screenplay, that's now starring a veritable super-group of comedy up-and-comers turned relatively big such as Jonah Hill, Jason Schwartzman and Jason Segel? (and no it's not Judd Apatow related)

"I think we're going to shoot that this year!" Jonah Hill said in an interview today with Movieline. Describing the project he said, "[It] would be great [if it were 'Goonies' for twentysomethings]. I think we just really liked 'Indiana Jones' and 'Goonies' and adventure movies from the '80s when we were growing up. We just thought it would be really cool to write a movie with guys in their mid-to-late 20s going on an adventure thinking it's going to be like Indiana Jones, and it turns out more like 'Three Kings.' [Laughs] Like, oh! There's guys actually trying to kill us. It's really fun."

Penned by Hill, Matt Spicer and Max Winkler (son of Henry and the director of the upcoming indie wedding comedy, "Ceremony"), the film will follow four childhood friends who embark on a global adventure inspired by the stories of explorers detailed in Mick Conefrey's book "The Adventurer's Handbook: Life Lessons From History's Great Explorers."

Yet, they all play pretty flawed characters. Segel has the role of talented musician, but alcoholic who never got his act together instead becoming a backup piano player. Hill will play an engineer isolated from his family and Schwartzman plays a spoiled and cowardly three-time Grammy winner. So who's that fourth friend? They haven't cast that actor yet.

The film is being directed by Akiva Schaffer, known for helming Andy Samberg's "Lonely Island" and digital shorts on SNL. It sounds rather expensive and high-concept though we'll see. We have the script floating around somewhere, but ScriptShadow was not a fan. Next up for Hill is the Duplass brothers comedy, "Cyrus" co-starring Marisa Tomei and John C. Reilly and it's received rave reviews at Sundance so far.