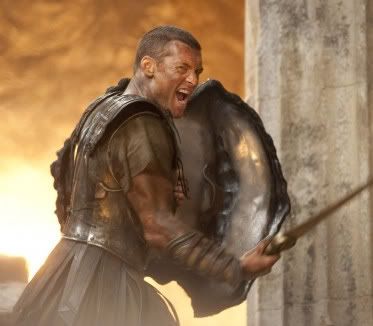 So just how desperate are Warner Brothers feeling right now about "Clash Of The Titans"?

First, word leaked out last month that the film would undergo ten days of reshoots in January. While Sam Worthington did his best to spin the story that the studio loved what they saw from Louis Letterier and were throwing more money at the film, his own words that the film had "some creaky parts but they are the parts that we knew were creaky and that we knew were going to be creaky going into it" spoke for themselves.

Now, The Hollywood Reporter has revealed that the studio will "decide in the next 10 days" whether or not to release "Clash Of The Titans" in 3D. They have ordered a 3D test print of the film and will make a decision once they get a look at it.

While the studio certainly wants to capitalize on the success of "Avatar" there is a big difference in the results from shooting a film in 3D and converting a 2D film to the format. We also can't help but feel that for a film that its star is already admitting is "creaky," that the move is a desperate ploy to hide a dud beneath some moderately effective 3D gimmickry.

The other problem with going 3D? Dreamworks' animated fable,"How To Train Your Dragon," is already scheduled to open in 3D the same weekend and probably has a good number of screens tied up. While a studio insider says it will be "No problem" to secure screens should they decide to release "Clash Of The Titans" in 3D our guess is that they'll push the release date back one week to April 2nd, where they will be up against a much weaker lineup of films including "Repo Men," "Furry Vengeance," "Why Did I Get Married Too" and "The Last Song." No tentpoles in the bunch, and it will be much easier to secure as many 3D screens as possible from the inevitable second week drop off of "How To Train Your Dragon." And surely, Letterier wouldn't mind having an extra week to tinker with this film due to all the last minute changes going on. But again, this is all speculation and we'll have to see how it plays out, but we'd put money down.

Finally, we're really feeling for Louis Letterier who must be tearing his hair out by this point with all the last minute shenanigans going on with his film. First, there are ten days of reshoots followed by WB deciding to throw his film through the 3D processing mill just to see what happens. Of course, this isn't mentioning the headaches he went through with "The Incredible Hulk." Louis, you may want to get Luc Besson on the phone when this is all over and see if he has anything for you.